Maybe you've already saw this in our newsletter a couple weeks ago, but many of you probably did not. And it certainly fits the current theme, for what are fans, but dimensional triangles? I know, I've been pushing the theme a bit hard this week, but it was fun, wasn't it? Now it's time for you to have more fun with the ideas we talked about this weekend. If you need a push, I would highly suggest grabbing a copy of Helen Breil's new digital book, Fan Fold Designs. Just look at the cool designs you can learn to create just on the cover alone.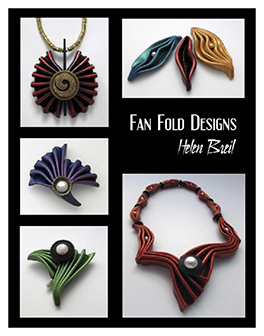 As Helen explains, "This design-based book is the result of my exploration of the design possibilities of folding clay. I was inspired by the paper folding and origami arts as well as the fabric arts of silk Shibori scarves and ribbons. The strong design element of the fold lines seem to naturally invoke a bold and dramatic look." Agreed. I already have my copy, and as busy as I am, I just couldn't help but stop in the middle of my day when I got it in order to try out a few things. These techniques are easy and fun and have so many possibilities.
And speaking of our newsletter, if you don't already get it, you can get by signing up on our website on the left hand side of our main page. It comes out just twice a month, but includes news on classes, products, events, and conversations as well as reporting on what's happening here for The Polymer Arts magazine. Every issue also includes useful tips and lists the most popular blog items seen the last couple weeks with additional insights and words from our readers. Just another way to get your polymer fix!
If you like this blog, support The Polymer Arts projects with a subscription or issue of The Polymer Arts magazine as well as supporting our advertising partners.