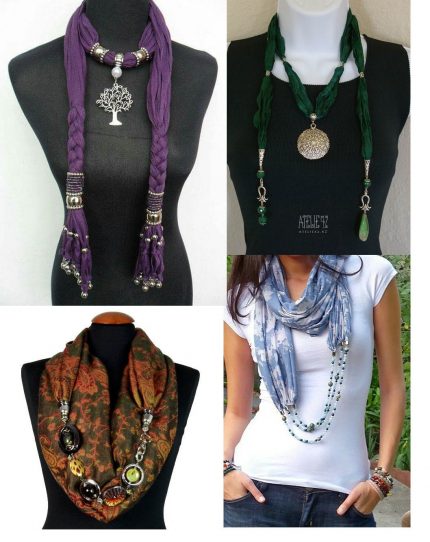 As you may have immediately noticed, these scarves are not polymer. In fact, most of them are mass-produced or use mass-produced components. So why am I showing you this? Because the popularity of these kinds of bedecked scarves are not seen in the polymer community, not at least that I could find, which means there is a wide-open opportunity for some of you out there.
Just look at the two-fold use of these. Not only can you have a warm and cozy bit of beautiful fabric to dress up your day, you can have jewelry that can be seen while wearing a scarf. I have never liked having to pick between a scarf and a necklace and with this kind of merging of the two, you don't have to.
Now, you could just stick with the single pin or charms like we saw in the last couple posts to get some fun and fancy decor on your chest but what about when you want to get a bit more flashy or formal? I just think these designs really open up a lot of possibilities for us as polymer artists. For one, how fun would it be to turn a boring basic scarf into a snazzy infinity scarf that doubles as a necklace AND gives many a bead in that stash of beautiful odds and ends, a beautiful place to hang?
Hopefully, these also give you all kinds of ideas for alternate ways to hang polymer pendants or has you thinking up new wide tube designs or all the above. It would not take long to make the components if you don't already have them and basic scarves are cheap. I bet you have one or two in a drawer somewhere that you never wear. Just think of how you could dress them up!
I would love to be able to give attribution to each of the pieces here but I somehow managed to find all but one with a broken link or dead website. However, the designer of the Atelie42 scarf piece in the upper right does have a website but even there, most of the text seems to be image based which means it can't be translated online. But the variation on jewelry scarves is worth a couple of minutes even for those of us who can't read the text. Head over to the website here or this article that has a nice selection ready for you to pore over.