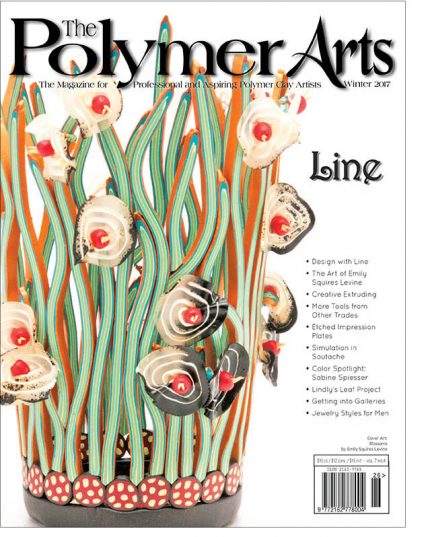 My apologies for not getting the blog out yesterday. It is a whirlwind over here as we get the next issue ready and deal with some ongoing technical and third-party service issues in other areas.
But here you go. Your sneak peek at the Winter 2017 – Line issue whose cover will be graced with the beautiful work of Emily Squires Levine who is the featured artist interviewed in this issue. This great end of the year issue will come out third week of November.
Along with that must-read article, you can also look forward to …
Design with Line
The Art of Emily Squires Levine
Creative Extruding
More Tools from Other Trades
Etched Impression Plates
Simulation in Soutache
Color Spotlight: Sabine Spiesser
Getting into Galleries
Jewelry Styles for Men
Growing Your Guild
Russian Polymer Quilt Project
… and much more!
To ensure you don't miss out, go here for subscriptions and renewals.
And … we are working on the next couple projects so we thought we'd keep working on making room and this time, we've got Polymer Journeys on sale for a straight 50% off for print editions, 15% off digital editions, and if you buy both, you can get the digital edition for only $5! You can grab this deal on our website as well.
There is also news about changes in our subscription and ordering process which was run through a service that has, unfortunately not provided consistent service and has frustrated more than a few readers, and we just can't have that. So this is all back in-house where we can monitor every single order ourselves. We do lose the online portal for you to check on your subscription and change your address but we'll be able to offer more discounts and specials as well as having a cleaner and easier ordering system.
Get all this news in our newsletter which you can find online here. If you would like to sign up to receive our twice monthly newsletter, just drop your email into the form on our home page.
_________________________________________
Like this blog? Lend your support with a purchase of The Polymer Arts magazine and visit our partners.
_________________________________________