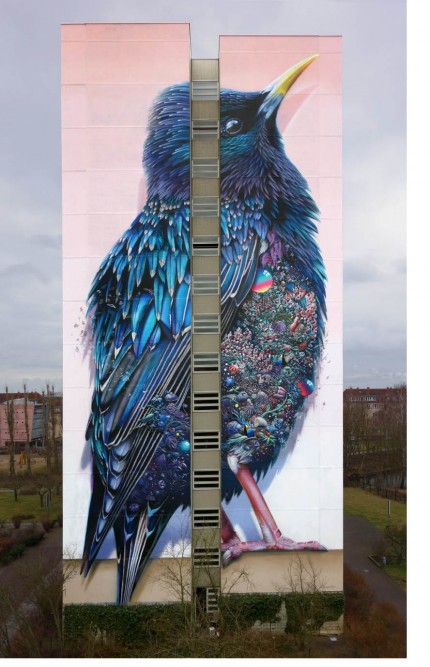 Before I talk about this gorgeous mural, I want to ask those of you reading this to bear with me on what has been a bit of hard morning here in the US as I have a small request. But don't worry, I am not going to get political. I simply want to send out, from my little tiny corner of the world, a message of positivity. It's a message I think we as artists are particularly capable of sending out in a myriad of effectual ways. I believe this is the only thing worth focusing on right now in what is sure to be an unforgettable time. What about it will be so unforgettable is what I hope you and I can influence.
Last night, Americans saw a shift in our belief in and an understanding of our country and what it stands for. There are a lot of angry, depressed and confused people, not just here in the States but all over the world. Everything I've watched and read indicates that the unexpected US presidential election results was primarily a vote against something rather than for something but it has left us in a precarious place. For those of you despairing of the outcome, there are a few things to keep in mind.
The president is not the American people. He is just one person and we are millions. The president is not a dictator and does not have the kind of power to do many of the things Trump has said he would do. So let's not panic or the panic itself will become part of the problem. Let's take control of and influence what each of us has access to. And what we have access to, primarily, is our talent and each other.
As artists, writers and creatives in general, we have, collectively, a tremendous amount of influence. The creatives in our world monitor and voice our emotions. They color the atmosphere of our world. And right now, all of you, whether you are an active artist or simply a supportive admirer, can make a difference in how the US moves forward and how the world is effected.
No, we will not be able to shore up stock markets or end bigotry in any kind of immediate and dramatic way but that is not how change actually happens. Change happens in a series of infinitesimally small steps. Like an earthquake, tiny small shifts and pressures build up until the plates cannot stand it any longer and releases the pressure all at once. This is what happened yesterday. We now have the opportunity to create the right kind of change by applying the right kind of pressure in this atmosphere where people are looking for answers. We can be the pressure for positive changes.
So I want to ask everyone reading this to do a very simple thing, something that we all have the power to do and can collectively use to make truly positive changes in what has been, for a while now, a very divided and emotional time, all across the world. I want to encourage you to put out nothing but beauty, compassion, love and positive messages right now. Set aside anger, disappointment, depression and even your fears for the time being in order to do and say kind and positive things.
It is extremely important that negativity not rule the day. So use your network, your influence, your exposure and your creativity to help bolster the atmosphere of our global community. Don't desert or admonish family or friends for supporting the other candidate or for sitting out the election. Instead support what you believe in with charitable donations, volunteering, vocal support, and your art. Create beautiful things so the world is just that much more lovely a place.
I'll do my part now by sharing a bit of beauty. This beautiful Starling mural by artists Collin van der Sluijs and Super A is on an apartment building in Berlin. The collaborative work was created for the "One Wall Mural Project", a project that aims to highlight the diversity of the many neighborhoods of Berlin by enabling artists to create these huge murals, thereby spreading a message of cohesion and beauty throughout the city. Take a look at this post on Colossal to see it in more detail. It is amazing.
It's too bad we can't all create 137 foot tall murals to be seen by thousands of people daily, sharing beauty and inspiring others along the way. But we can do our small part to contribute to a positive solution rooted in love for everyone. Will you join me?
Inspirational Challenge of the Day: Select a piece of your artwork and give it to someone who could use a little more beauty today. Do this for them and for yourself. Being kind and charitable will enrich your day as well as the day of the person you gift the art too and, hopefully, that has a rippling effect through many, many people.
_________________________________________
Like this blog? Lend your support with a purchase of The Polymer Arts magazine and visit our partners.
_________________________________________