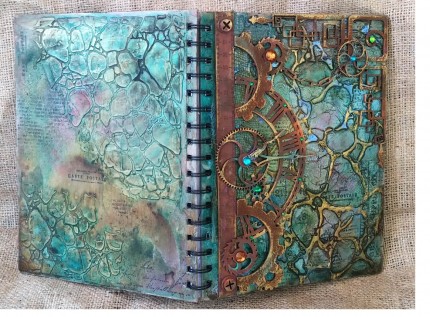 Journal covers are very much like blank canvases, which means you can do anything you desire on them. Your medium is probably the only thing that will constrict you, but then you aren't restricted to one medium, are you? Polymer is amazing and will always be my go to material but I wouldn't ignore other wonderful options, especially since so many other mediums work so well with polymer.
Here is a journal cover that has no polymer on it but most of the materials used are quite familiar to polymer clayers and could be combined with it to create looks inspired by this texture rich cover. Gabrielle Pollacco uses an insanely wide array of paints, inks, powders, sprays, stencils, stamps and a few other things to create this cover. Sometimes, too many materials is like too many ingredients in a recipe … going overboard can really muck things up. But Gabrielle brings it all together here by limiting her palette and sticking with a weathered look as her thematic motif.
She seriously looks like she is having way too much fun in this video tutorial that she recorded of her full process for creating this cover. I now have a new list of products to find and try so if you watch this, you have been warned that it may result in a bit of frenetic online shopping! Also … the music she uses may get stuck in your head and have you bopping about the rest of the day. It's not a bad thing. Just wanted to give you a head's up so you are ready to defend yourself with the mute button if bopping is not appropriate at the time.
Weekly Inspiration Challenge: Create a journal cover for your goals and plans book. Try some new materials to really make it interesting. If you've not covered a journal or sketchbook before and find covering a pristine new book on your first try to be a bit too much pressure, create on a separate sheet of clay that can be glued to the journal later or, if you like it as is, can be a bit of inspiration to frame. A sheet of raw clay, cured between two tiles to keep it perfectly flat can be a great 'canvas' to work on.
_________________________________________
Like this blog? Lend your support with a purchase of The Polymer Arts magazine and visit our partners.
_________________________________________