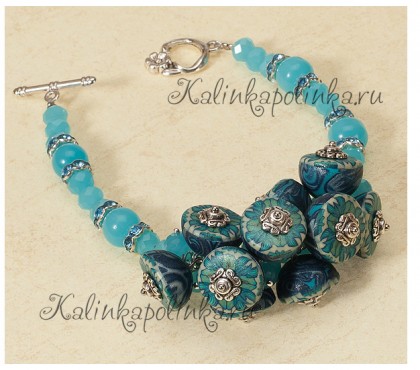 This week, I have pieces to share with you that have unexpected additions or changes. I think it is fantastic to mix things up, not only in our own world and work, but to step outside the expectations of what we think certain types of pieces should be. For instance, does a bead really have to be round? No, of course not. But should it at least be three-dimensionally symmetrical? Not really.
Katerina Sidorova has taken the round bead and literally reshaped it for this bracelet. The beads here were created by making perfectly round balls, cutting them in half, and adding thick cane slices on top that were carefully smoothed in to blend with the cut halves. The result is an off-balance half-round shape, or you might say it's a ball half smashed, or you might call it acorn shaped even. What it is, though, is an unusual shape for a bead, which makes the gathering of the beautiful blue details quite intriguing. And really, the idea is pretty simple, but just that change makes us look twice because it does go beyond the expected round form.
Katerina has generously shared how she created these in this tutorial. She is the shop owner at Russia's online polymer and jewelry supply shop KalinkaPolinka, which is also a great website full of articles, free tutorials, and links to other tutorials to explore.
Inspirational Challenge of the Day: Consider a form you regularly create and consider how you can change it to make it more interesting or intriguing. Sketch, cut, or sculpt your ideas.
___________________________________________
Like this blog? Lend your support with a purchase of The Polymer Arts magazine and visit our partners:
___________________________________________