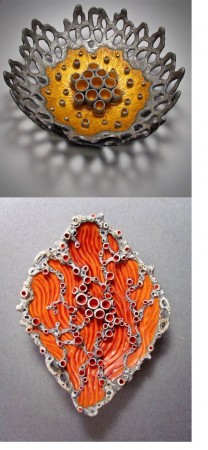 I'm going to use this to both wrap up my jabbering about the Spring issue of The Polymer Arts and as a segue into talking about a design element that seems rarely discussed … the dot. Or spot. Or point on a surface. Whatever you want to refer to it, dots or spots are an unassuming but strong design element. In polymer, we can give them dimension and form until they take on another life entirely. In Donna Greenberg's work, those organic gatherings of points definitely look to be alive.
We were so lucky to have another wonderful article by Donna in the latest issue, The Polymer Arts Spring 2017 – Shape and Form issue. She discusses ways to use your past work to inspire new work. I think most of us have tried going back to something we did before but her suggestions are a bit different and her examples are beautiful. She does a lot of these dot/spot barnacle-like cups in her re-formed work and in her latest vessels too.
Although the form of the 'spots' seen here are similar, the way they are used and gathered are not. Look at the one on top. It had an organic feel but the little cups and the spots are placed in a very orderly fashion. The rougher but lacy edge builds a balanced but dynamic tension, pulling away from the inner order. But the platter below is a purely random application with the gathered dots of different sizes flowing in a natural path through and around the piece. It's less restricted nature also warranted the use of a brighter color, making the piece quite lively and cheerful.
I found these pieces on Donna's Facebook page but also take a look at her barnacled beauties in the latest issue of The Polymer Arts or hop over to Donna's website to see more of her dots and spots.
_________________________________________
Like this blog? Lend your support with a purchase of The Polymer Arts magazine and visit our partners.
_________________________________________