We sort of kinda interrupt this art blog to tip you off about a chance to grab a bundle of goodies, get some special discounts and have your opinions and wishes heard! Then we'll talk art.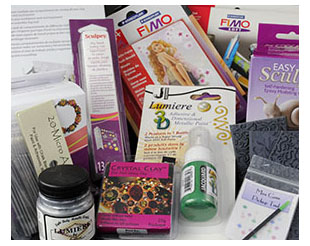 Reader's Wish List Survey
Take a little survey and let us know what you want to see on the blog, as well as in the magazine and in our upcoming projects as we plan for the rest of 2015 into 2016. As a thank you for your time, you'll find these discounts and a Goodie Giveaway at the end of the survey:
—The Polymer Arts 10% off code for subscriptions and back issues on our website.*
–ILove2Craft.com 10% off code for your entire purchase at ILove2Craft.com (featuring Lisa Pavelka and Christi Friesen products.)*
–A chance to win one of two Goodie Boxes that will include a variety of tools and supplies from Polyform, Staedtler, Jacquard, CF Originals, and more (each valued at $40+).* **
The Fine Print: *Discounts and entering for the Goodie Box giveaways end at midnight PDT on August 2nd, 2015. Your promo codes will pop up on a Thank You page after you submit the survey. **Due to the unpredictability of out of country shipping times and circumstances, we will substitute clays and other sensitive materials with durable items for winners living outside the US.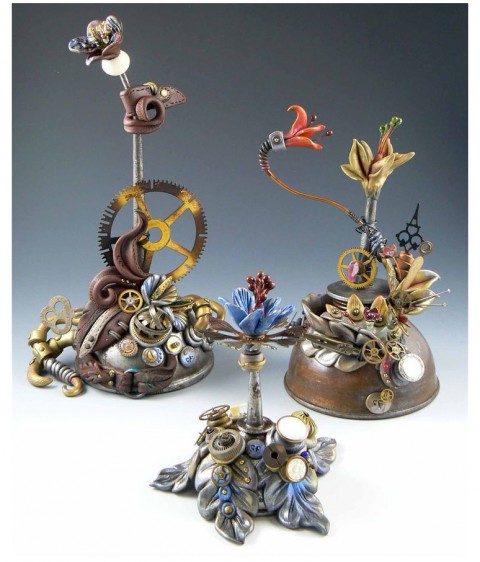 Okay … now for some art to end our week. Summer colors and summer fun had been the theme, but I have Christi Friesen on the brain so we're going to try to combine this all with some "Mechanical Botanicals" by CF herself.
Why so much Friesen distraction? For one, both the discount and the goodie box you can get by taking the survey can help you stock up on CF Originals goods (Have you seen the new little Swellegant Sampler kit! So cool … you can try it all! It's not in the Goody Box, but you can grab it at ILove@Craft.com with that discount code mentioned!)
Also, I spent part of the day working on the latest article she's whipped up for us at The Polymer Arts magazine … "Embellishments"! Boy, she can pack a lot of tips and tricks into a handful of pages! And the pictures! She is a generous contributor, I tell you. (I know … I need to get the line-up for the Fall issue out to you all, but it's been an interesting wrangling of content this quarter. Next week, I promise!)
The other reason everything seems to be coming up Christi is that, well Christi came up to see me on her way out of town Wednesday. We stayed up way too late and came up with way too many amazing ideas and even more questions. One of them was about how to categorize work. And even whether we should.
Take a look at these oil cans. They're decorative. And they're sculptural. There is polymer, but it's at least half other materials. So is it polymer art? Mixed-media? Multi-media? For shows, books and even on blogs and in articles, we find ourselves looking for categories and labels and ways to put things into a particular box. But do we need to?
Don't worry. We didn't come up with the answer to the universe and everything or the definitive answers to these questions either the other night. We did decide that maybe backing off the labels and categories so we stop mentally boxing things in so often could be a good thing though. So, let's not say that this is polymer art or mixed media or sculpture or decor. Let's just say it's bits of the artist that is here for all of us to enjoy. And most of the time, that should be enough.
If you like this blog, support The Polymer Arts projects with a subscription or an issue of The Polymer Arts magazine, as well as by supporting our advertising partners.