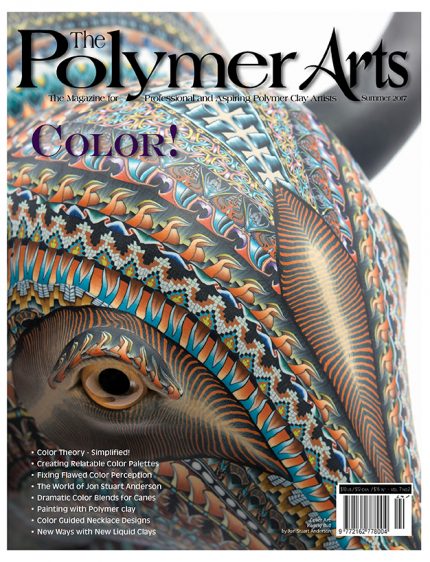 Today, I just want to share the newest cover of The Polymer Arts. We are so very lucky to have Jon Stuart Anderson gracing the cover with a wonderful close up of his Raging Bull sculpture. The article on Jon's art and life is alone worth getting this issue for.
Jon had previously not talked much about his work and yet it is absolutely unforgettable. His process, his thoughts on creating, on color, and on living as an artist are from the heart and he minces no words. The interview conducted, and article written by, the equally amazing Ron Lehocky was a dream for us. Ron had so much material, there really could have been a book. Ron was just the person to pull from Jon the stories and details that allow us a rich and colorful glimpse of the man and his work like we've never seen it before. I am so thrilled about this issue. Can you tell?
The whole Summer 2017- Color issue will be a great reference for color exploration now and in the future with the talent and knowledge of some of our best artists including Tracy Holmes, Christine Dumont, Lindly Haunani, Meg Newberg, and Anke Humpert, along with Ron and Jon. Here's some of the articles you can look forward to:
Color Theory – Simplified!
Creating Relatable Color Palettes
Fixing our Brains' Flawed Color Perception
The Wild & Colorful World of Jon Anderson
Dramatic Color Blends for Canes
Painting with Polymer clay
Color Guided Necklace Designs
Re-Thinking Your Artistic Identity
Funding a Guild or Group
Color Spotlight on Christine Dumont
New Ways with the New Liquid Clays
… and much more!
​Don't miss out on this essential issue. Be sure your subscription is up to date by going to your account page or start your new subscription. It's easy … just click here!
If you are jonesing to see more of Jon's work or want to purchase his work, you can find it on his website.
_________________________________________
Like this blog? Lend your support with a purchase of The Polymer Arts magazine and visit our partners.
_________________________________________