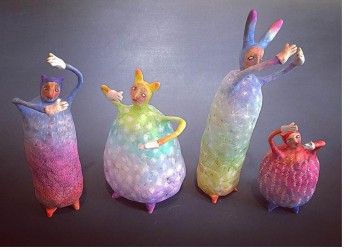 Nothing like a "Rainbow Coalition" to start the week off and that is what we are fortunate enough to be enjoying today with this enchanting little gather by the ever whimsical Doreen Kassel. The colors of these characters are just so juicy and combined in a most delicious way. Marks were scratched into the surface after painting to energize the forms of this little gang's broad torsos. Although their body shapes don't leave room for much movement everything else is in motion from the dancing gestures of the arms to the expressive facial gestures. It is hard not to smile in their presence.
Speaking of which… I could use an energized rainbow coalition of my own as we have lost a couple of contributors for the next issue of The Polymer Arts and could use some imagination and talent to fill in the spaces. The next issue's theme is 'Color!' Would you want to be a part of this delightful next issue? I could use help fleshing out a "ways to design colorful beaded necklaces" article or maybe you have a color-centric or just colorful technique tutorial such as painting with or on polymer.
We also really could use a short personal story, that may or may not have to do with color but would inspire and make people smile, for that last page, the Muse's Corner section. Do you have any splendid ideas the readers of The Polymer Arts might want? You'll never know unless you write us!
Please send your article ideas to me using the link on our submission page or write me directly at sbray(at)thepolymerarts.com. Avoid replying to this post if you get it by email as it won't go to me, taking a day or two to get forwarded, and I would love to see your ideas as soon as possible!
In the meantime, for more color and smiles, take a look at what Doreen is up to on her website or follow her on Instagram.
_________________________________________
Like this blog? Lend your support with a purchase of The Polymer Arts magazine and visit our partners.
_________________________________________