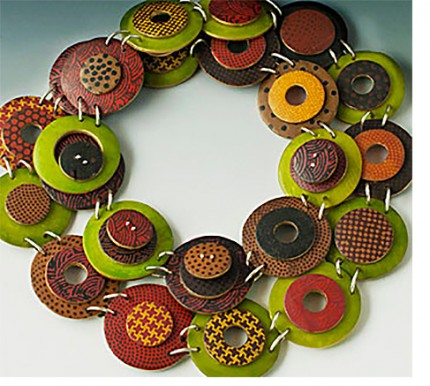 Okay … so you know how I've been saying all week that you can't lean on pattern alone. Well, I meant it but there is one kind of exception to that rule and that is, if you are going to do a lot of pattern, go all out with a lot of variation and then be reserved in other design elements so it doesn't look messy. And this is what I mean by that.
Louise Fischer Cozzi focuses on pattern a lot. She will silkscreen, image transfer, etch, stamp or whatever suits to get the pattern down. I know this would have been made after she got more heavily into silkscreening but I can't actually say whether any of it is. But that is fairly irrelevant because the idea is that you can see what using a lot of pattern, and successfully, looks like here.
There are more patterns here than I have been able to count but for all that chaos of pattern, there is this very clean collection of circles carrying it all along. Some variation in size and solid versus donut type circles mix it up some, but they are placed at regular intervals to keep everything orderly. A little order in the chaos allows the viewer to enjoy the variety without feeling lost in it. Plus this works as both a necklace and a belt so for those of us that like versatility, this piece has quite a bit going for it.
Louise does a lot of wholesale and a lot of shows so you don't see her stuff bouncing around the internet too much. To see her latest work, just pop over to her website or check out what she is selling to us mere mortals in her shop.
Weekly Inspiration Challenge: Focus on pattern this weekend–bit it silkscreen, stamps, image transfers or even hand made marks. You could pick one pattern and see how many ways you can use it. It could be an accent on a bead or the background on a vase upon which you lay other elements. How does the use change how you see the pattern? Or go for an all out piece like the one here, using as many patterns as you can while keeping the design in check.
_________________________________________
Like this blog? Lend your support with a purchase of The Polymer Arts magazine and visit our partners.
_________________________________________