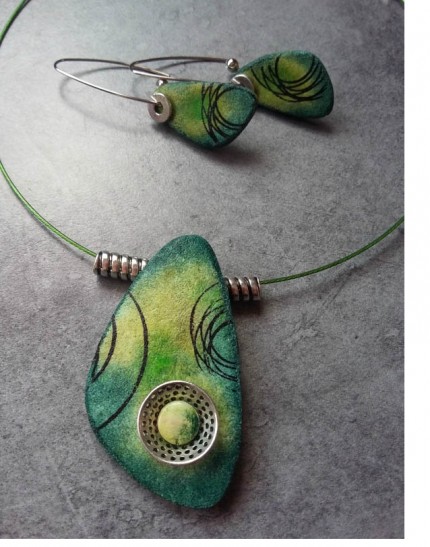 I very much enjoyed the comments and the interaction of last week. Maybe we'll do that once a week or every other. Getting you to think about art is definitely one of my high goals!
So let's ponder a few together this week. I find it curious that some pieces, even though very much like other pieces we see, will just strike you as working so much better than similar work. Like this set by Cécile Bouesnard. It is quietly striking although the shape is a common one these days and the composition of shape and focal point is what one might expect. But the coloring and the marks keep it from becoming just ordinary. So why is that?
Success is not always easy to define, primarily because the success of a piece is really due to the sum of its parts. Key elements will often shine but if everything else didn't work with it or support it as needed, those key elements would not have the same impact. So what is it here that is working? I think everything supports the overall feel. The soft shift of a rich green to that mellow yellow and the lime green snuck into the middle of it (did you even notice it was there?) gives the surface a glowing effect. The softness of the coloring contrasts with the perfectly trimmed shapes but those black marks, like the careless placement of a messy bottle contrasts with both the soft coloring and the clean shapes. These subtle but consistent contrasts make for an interesting and fulfilling piece to look upon.
That is my take on why this works. If you have other ideas, please add them to the comment section at the end of this post. In the meantime, you can see what else Cécile created with a similar combination of elements in varied compositions and colors on this post of her blog.
_________________________________________
Like this blog? Lend your support with a purchase of The Polymer Arts magazine and visit our partners.
_________________________________________