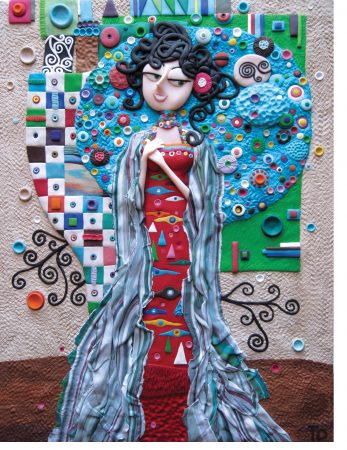 Another cover that really seemed to knock people's socks off was the Tammy Durham cover for the Fall 2014- Play issue. I'm sure it was the color and the detail but perhaps it was simply because it was about a subject very near and dear to most of our hearts: playing.
And that is something Tammy seems to be doing a lot of lately, although not so much with her polymer clay illustrations. She is very much focused on color but has been working with abstract oil paintings in the Mondrian mode of color study, or so it appears to me. You can see her present work and her past polymer illustrations on her website here.
If you would like a copy of this issue, we still have a fair amount of stock that I expect to last for a few months longer at least but we are quickly selling out of our earlier issues, especially those we have left for 2012 and 2013. So if you are wanting to update your library of print issues of The Polymer Arts, hop on over to our website and take advantage of our package deals.
_________________________________________
Like this blog? Lend your support with a purchase of The Polymer Arts magazine and visit our partners.
_________________________________________