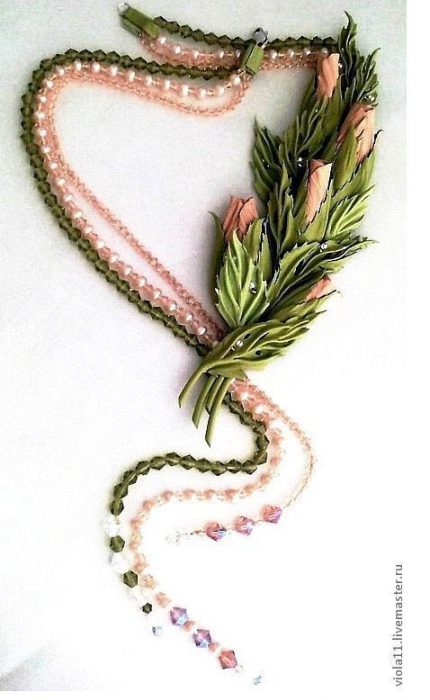 We are going through the final stages of emptying the family home this weekend and I must rush off to get working on that but wanted to leave you with one more organic and unusual piece to contemplate.
I suppose you can't really say that this composition is so unusual. The side focal thing in necklaces is nothing new but can you tell that the flowers in leaves are neither real nor made of anything like polymer? These are actually created from leather which is certainly part of why it has such a soft look to it, one that might be hard–although not impossible–for polymer to recreate.
The leather work is so realistic, however, and the palette restricted to a very realistic leaf green and pale peach makes for a beautiful and tender look. I was thinking this even before I saw that Viola of the Viola Wizard shop on Live Master named it "Tender Age." Just seems very fitting for the stroll down memory lane that will sure to be a large part of my weekend.
So off to join the family. But you can enjoy more of Viola's work in her Live Master shop.
Weekly Inspiration Challenge: Give yourself permission to make something personally meaningful, something that you put time and effort into that has nothing to do with making a sale, creating the perfect gift, or impressing others. Make it knowing no one else will see it and the only person you are trying to impress is yourself. See where your personal passion takes you.
_________________________________________
Like this blog? Lend your support with a purchase of The Polymer Arts magazine and visit our partners.
_________________________________________