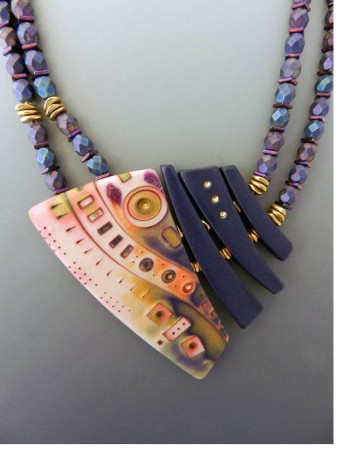 I don't think I have ever done a week on a specific color but that's what we are going to do this week and purple is my choice. I don't know if it is all the purple blooms coming out in this nice Spring weather we are having or just my penchant for it, but I've been seeing a lot of beautiful purple pieces popping up on Pinterest in particular. These aren't all new pieces. It just seems that purple is on more than a few people's minds.
It is not hard to combine other colors with purple and arrive at a beautiful and majestic combination since purple will pretty much make any palette majestic if it takes center stage. Take this nicely balanced–both in colors and in the way the shapes are hung–necklace by Julie Picarello. The purple does dominate but take a close look at the other colors she has here. Yellow is not surprise since it is purple's complement but there is also a touch of orange, mauve and magenta. They are subtle blends so none of those stand out but they allow contrast with the purple to allow the darker color a richer feel than it would have on its own.
Julie is, of course, a master at choosing colors for her signature mokume techniques. For inspiring color combinations, take a look at more of her work on her website and Flickr pages, and check out her book, Patterns in Polymer.
_________________________________________
Like this blog? Lend your support with a purchase of The Polymer Arts magazine and visit our partners.
_________________________________________