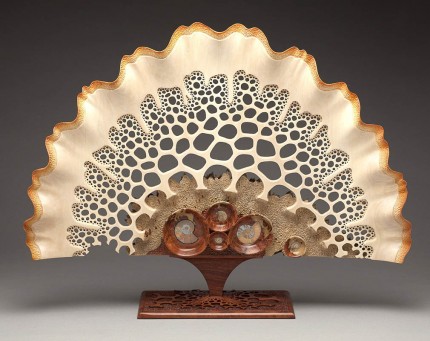 As a decorative elements, holes, more than anything else, reveal things. In some work, there is literally something that would otherwise be hidden, within or behind a layer the artist has cut a hole in. But sometimes, especially with a collection of holes, it reveals space itself.
I have presented work by Mark Doolittle once before but I look in on his work regularly. His work is very hole-y. He carves gourds and wood full of holes to reveal space not just inside his pieces by around it. Sometimes his holes break into the surrounding space, feeling unfinished and maybe even a little broken. But that there is a great metaphor for most of our lives. We gather these holes as we go through the years and maybe they widen or their borders break off but there is beauty even in the damage we endure, especially when we can embrace it for the experiences they represent.
I apologize for waxing a bit on the poetic and abstract this week and appreciate that you allow me to match my writing to my mood. It is hard not to have life creep in on our work some times but in talking about art, I can always find joy, especially when I get to share what I find.
I think you will find further joy in taking a moment to go to Mark's website and see the huge variety of stunning pieces.
Weekly Inspiration Challenge: Explore holes or what you can take away from the pieces you are working on. See how they give you functional opportunities as well as added design interest. Try some pieces with and without holes. How does having those open spaces change how the piece feels?
_________________________________________
Like this blog? Lend your support with a purchase of The Polymer Arts magazine and visit our partners.
_________________________________________