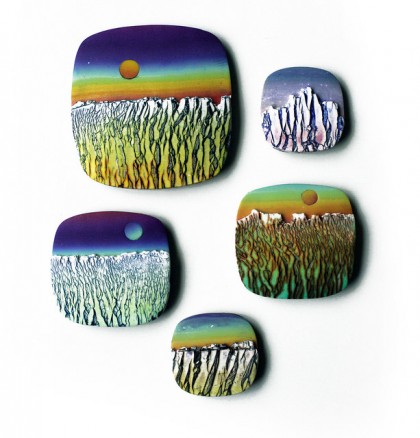 If you read Friday's post about the fashion illustrators who used what we see around us every day to design their images of women's clothing, then you might see the connecting thread to this week's theme. I thought we'd explore the idea of the outcome of a technique suggesting the form and imagery of art work.
Crackle techniques and approaches to treating cracked clay have been rather popular the last few years, but they have been primarily used as surface texture in abstract and contemporary jewelry. I can almost see Silvia Ortiz de la Torre looking down at a conditioned sheet (you know how they get those cracked up edges after running it through the pasta machine) or one she created using a cracked clay technique, and with the sheets edge sitting horizontal on the work table, she saw the suggestion of a landscape. Or perhaps she saw crackle work created by other artists and she saw the landscape come out of those pieces. However it came to her, I think we are looking at an example of inspiration coming from the look of the material.
Just as we might look up at the sky and see animals in the clouds, we do also see imagery in what we are creating, unbidden and often unexpected, but it's there. It's hard for our minds not to try to create imagery in what it sees. The question is, do you let it guide your work? It is neither right or wrong to explore the imagery you see in the scraps before you or in the treated surface of the clay. It's just another way to let the material guide what you create.
Silvia is definitely a texture enthusiast. These pieces are actually quite a departure from her bold and highly saturated colors. but the exploration of texture is certainly alive here. You can see more of her textural explorations and other 'material suggestions' on her Flickr photostream.
Inspirational Challenge of the Day: Take a look at something you worked on but didn't complete or pull out some scrap and start playing with it. Don't try too hard, just turn it this way and that and ask yourself what you see in it. Do you see faces, animals, objects, places, or patterns you hadn't seen before? Find something intriguing and let it lead you in a little playtime or into working towards a finished piece.
___________________________________________
Like this blog? Lend your support with a purchase of The Polymer Arts magazine and visit our partners:
___________________________________________