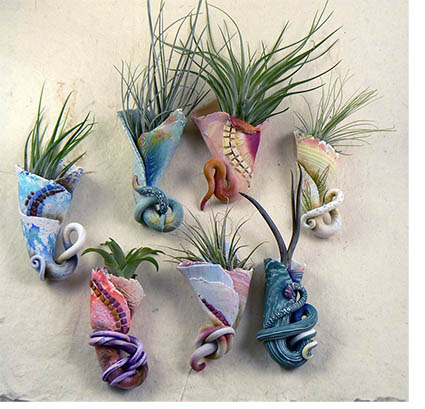 This week's theme will start with one of our more notorious creative instigator, Christi Friesen. On my end it started when my better half came back from an orchid show not with any orchids but rather with a 4 foot tall branch covered in air plants and I thought, "That is far too many air plants for that stick. I should save some from their crowded existence and make planters for them! In polymer. Of course." However, in my world, the time between the germination of an idea and gaining the free time to implement it can be pretty vast. A few days later, I saw this photo pop up on Facebook. Apparently thoughts of air plants are, well, in the air!
Being a simple rolled cone construction with a ton of possibilities for color, texture, and embellishment, these little wall sconces of Christi's are sure to get creative sparks flying for those of you looking for something new, easy and fun to play around with. There is plenty of room in this kind of project for your style and voice to come through. Work up something of your own like forming bowls, boxes, or tubes instead of cones and design it with your own signature colors and treatments.
Easy and fun are the signature marks of Christi's classes and books, not to mention her community site, Christi's Creative Neighborhood where have access to all sorts of tutorials, videos and creative ideas along with a chance to share with other like-minded clayers. Check out Christi's happenings there, on her website and on her Facebook page.
_________________________________________
Like this blog? Lend your support with a purchase of The Polymer Arts magazine and visit our partners.
_________________________________________