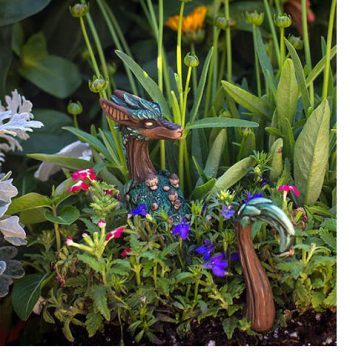 I love the integration of the real world with artistic imagination. Finding this garden dragon hit all my buttons as I have also always been a bit of a dragon-loving nerd. The creator, Emily Coleman, creates all kinds of fantastic creatures made to blend in with natural settings.
Her inspiration for this comes from nature itself, of course, but it is driven by, in her words, "… a very strong passion for the environment and the protection of the world's forests. As I began showing my tree dragons, I realized they could help me spread this passion."
I have to agree. Anything that draws people to nature, takes them outdoors, and encourages them to plant in a garden or a pot, helps keep us close to nature and the earth which engenders an appreciation for them and, usually, some level of drive to do right by these things we find ourselves communing with. Putting a little something fantastical in among the plants is a fun and relatively novel way of displaying and celebrating creativity and the substance of human imagination.
Read a bit more about Emily and her inspirations on this Bored Panda article and see her other creations on her Instagram account and her website.
_________________________________________
Like this blog? Lend your support with a purchase of The Polymer Arts magazine and visit our partners.
_________________________________________