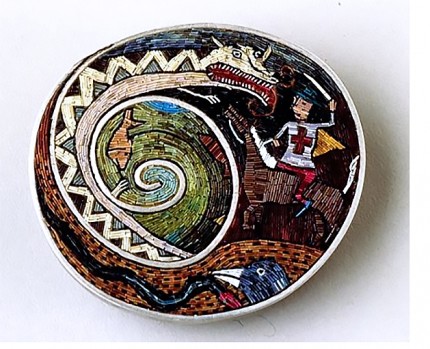 Thank you for the responses on Tuesday's mosaic. I loved reading your different views and loved the level of enthusiasm in the comments. I apologize that they took a day to show up–the mysterious ways of the internet did not let us in to approve them until late in the day. Technology often reminds me of when the kids were around four. You just never knew if or when they would cooperate. Actually, that reminds me of 14 year olds, too. But, wait … that is not our subject today!
We are going to get back to mosaics and I hope a few of you will chime in with your thoughts again. Let's look at a completely different type from Cynthia Toops, who is just mad about micro mosaics.
Cynthia's images often invoke a story but how important is the story to the success of the work? Do you easily find a story here, even with the disparate types of critters wedged into it? Do you not care if a story is easily drawn from this but enjoy it any ways? If so, why? Does it feel crowded to you or is the abundance of detail part of its charm?
Cynthia has a website here but her collaborative silversmithing partner, Chuck Domitrovich, keeps the best collection of their work on this Pinterest board.
_________________________________________
Like this blog? Lend your support with a purchase of The Polymer Arts magazine and visit our partners.
_________________________________________