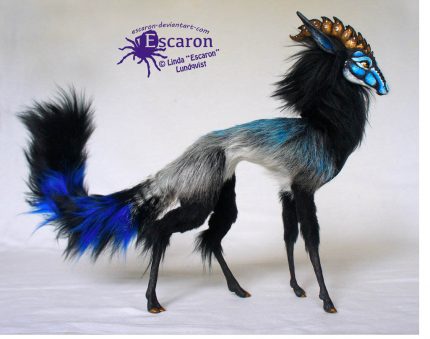 Apparently we are doing polymer and fur this week. Looking at Tuesday's artist led me down a rabbit hole of impressive figure and doll art where polymer is being beautifully combined with furry textures. I did try to find jewelry, and there are a few things, but nothing that was knocking my socks off.
This artist, however, did grab my attention. Furry doesn't have to be cute, quite apparently. This majestic little creature impresses one with both the bright but not overly used dashes of blue and a very sleek and elegant line in its form. You also have to wonder what story the artist has for this creature. I can't imagine making something like this without imagining how it would live out in the world.
The artist, Linda Lundqvist who hails from Sweden, creates a wide variety of fantastical creatures, that mix characteristics of various animals along with a good dose of pure imagination. Discover more of Linda's world through her Deviant art pages and in her Etsy shop.
_________________________________________
Like this blog? Lend your support with a purchase of The Polymer Arts magazine and visit our partners.
_________________________________________