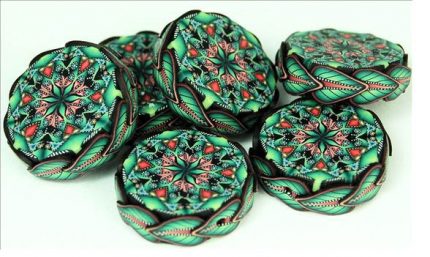 This will be a simple, and hopefully simply delightful, week as I am traveling or in the midst of preparing to travel and will have to be brief. But I have had the idea of the 'bead' on my mind. That sounds pretty basic, I know, but for art jewelry, the bead–be it a simple, plain spacer or an extravagant focal piece–is the most common single element created and thus, has a pretty highly esteemed place in the world of adornment. So let's take a closer look at some very well-considered and lovingly created beads.
These beauties are cane constructed by the ever clever Ivy Niles of iKandi Clay. Canes takes their place on center stage as well as energetically running around the circumference for an intricate and rather mesmerizing look.
If you are partial to either a well-done cane or intricate, take a break to look through Ivy's her Etsy shop and her website.
_________________________________________
Like this blog? Lend your support with a purchase of The Polymer Arts magazine and visit our partners.
_________________________________________