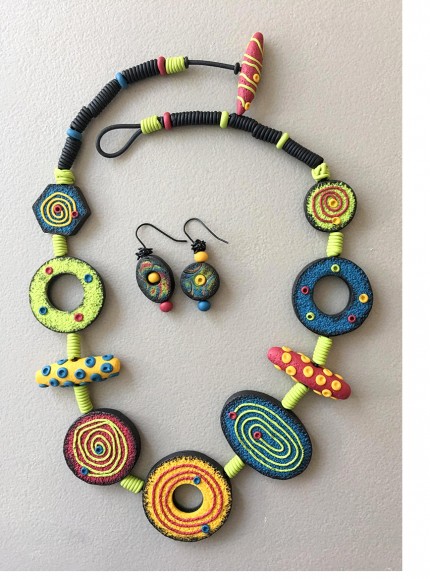 I don't have a theme set for this week but I thought I'd just pull the first thing that grabbed me when opening Pinterest today and see where we go from there. It wasn't a huge surprise that I grabbed this fun and colorful piece by Lyn Tremblay. This is really the antithesis of things I am entrenched in right now but my mind is definitely storing up lots of information on color as our next issue's theme is "Color!" and it is shaping up to be more than just another great issue but rather an indispensable reference on color in polymer design. It's really exciting and I can't wait to share with you the amazing articles our contributors are whipping into shape right now. But good things come to those that wait. Be sure you have your subscription up to date and keep checking in here to see the cover and get the release date.
In the meantime, let's see what besides all the color grabs one's attention in Lyn's piece here. Fun is definitely a theme, not just in the colors but the playful forms and the perfectly imperfect placement of dots and spirals. There is a childlike quality in just about every aspect here yet it is well-balanced, with just enough contrast in color, texture, and form to keep it interesting while still establishing a relationship between all the disparate parts.
Do you notice how everything is of, or bows to, the circle form without being obvious because it is shown in so many widely varied ways? That's the overriding relationship between the parts which allows us to take in its joy and the childlike abandon without it running all helter skelter over us. It just invites you to settle in and enjoy its playtime.
Lyn Tremblay's primary outlet for showing her work looks to be her Facebook page where you can enjoy pieces that range from colorful to tribal to organic without leaving behind that sense of joy and exploration so well represented here.
_________________________________________
Like this blog? Lend your support with a purchase of The Polymer Arts magazine and visit our partners.
_________________________________________