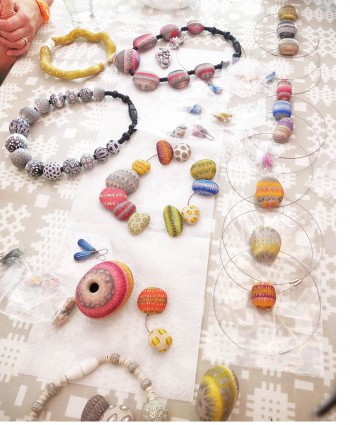 I finally get to start sharing some of the things I have been seeing over here in the south of France. Yes, there has been a ton of beautiful countryside and villages to see as well as amazing textures in the moss covered rocks, old cobblestone streets, aged and worn walls, and rusting and painted iron and copper hardware. I will not bore you with the trip slides but rather, let you peek in on some of what we have been doing back at the house.
I may not have explained what it is I am doing down here. I was kindly invited to join a small group of my polymer friends and colleagues to enjoy a week of beauty and creativity in the tiny village of Durfort where the lovely La Cascade art center is located. Dayle Doroshow was the driving force behind this get-together as she owns her own little slice of France down here. The rest of us rented a house down the row from her. The days are full of creative and intellectual conversation, general silliness, and French style meals. There has also been quite a bit of work as this was a chance for many of us to more efficiently discuss collaborative projects (mostly the business related kinds) and discuss our present direction as artists and entrepreneurs.
One of the things we have been doing to support each other has been to pull out our art, one artist a day, and discuss the work as well as the artist's thoughts and motivations. Wednesday we had the pleasure of looking at all the gorgeous colors and impeccable finishes of Melanie West, which so works with the theme this week, so I snapped a few images for you to enjoy.
No words can express how wonderful it is to see such beautifully finished work laid out all together on a single table. It's even more impossible to describe the delightful sensation of running one's fingers over the velvety smoothness of these surfaces. I just wanted to pet them like they were precious little cats.
Now I have to get packing here for our trek to Bordeaux tomorrow for EuroSynergy, which starts on Sunday. My plan is to share beautiful things from there with you so keep your fingers crossed that the hotel internet cooperates! Have a beautiful, colorful weekend!
_________________________________________
Like this blog? Lend your support with a purchase of The Polymer Arts magazine and visit our partners:
_________________________________________