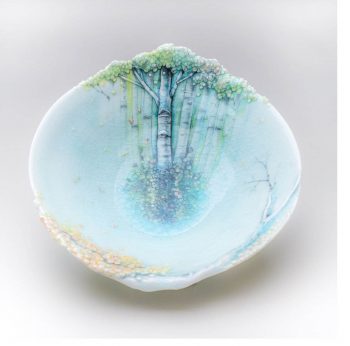 When I saw this delicately shaped aspen forest on such a pale and yet luminescent bowl, I just kind of sighed. Such a balance of light colors and strong forms takes a very intentional and intuitively passionate hand.
I saw this on the Colossal newsletter, which is a little collection of interesting art and artists dropped into my mailbox weekly. At first, I thought this was a shallow shell shape but a closer look shows it to be a bowl and not all that shallow, with the aspen trees growing up from the inside of it. Ceramic artist Heesoo Lee actually creates this complex and delicate look by creating separate leaves and placing them carefully by hand, building a very dimensional and shimmering look for these trees which, in real life, shimmer with the constant flutter of their leaves in even the slightest breeze. It made me a little homesick for Colorado actually. The aspens will be a brilliant gold turning to russet red about now.
Well, i can't get out to the Rockies right now but we can all enjoy these Rocky Mountain forest-inspired creations by visiting the Montana-based artist's work online both on Instagram and Etsy. Here is the link to the Colossal article on her as well.
And don't forget to work out time to come see the Into the Forest installation in Pittsburgh in November. Here is the link again so you can work on those plans to join fellow polymer artists that weekend.
_________________________________________
Like this blog? Lend your support with a purchase of The Polymer Arts magazine and visit our partners.
_________________________________________