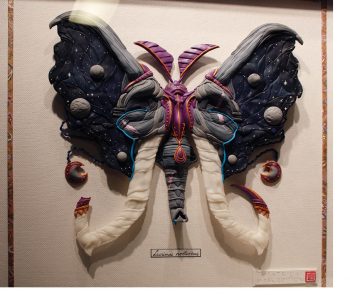 As I wind up the final packing of the Colorado warehouse, I have been thinking about some of our more memorable covers and issues and had to stop and wonder what a few of our cover artists have been up to lately. So, I hope you will indulge me, if you are not curious yourself, as we look back at some of the best cover art on the magazine and catch up with some of those artists today.
To this day, one of the most popular covers we ever had was just the third issue of The Polymer Arts back in February of 2012. This is the cover art piece, without the layout. Raku Inuoe just blew everyone's minds with his fantastical sculptural winged moths and butterflies. The intensity of the color and the boldness of the forms and lines were certainly attention-grabbing. We got tons of comments and emails about this cover and it was shared all over. It was immensely gratifying for a fairly new magazine to get that kind of attention.
If you read that issue, you would have learned that Raku does not swear allegiance to any one medium but swims from one to another, depending on his curiosity and need for expression at the time. Although it doesn't look like he's steered completely clear of polymer, he has certainly made another mark on the visual art world with his floral built creatures, recently featured in Colossal. Take a look at his Instagram page for a ride through his wild imagination.
If you are interested in getting a copy of the Spring 2012 – Creative Spaces issues, you will have to be content with a digital copy as the print copies sold out within a year of its publication. It was an amazing issue with a peek into the studios of Raku, Christi Friesen, Bettina Welker and Swirly Designs, as well as other great articles focused on your creative space. Get your copy here.
_________________________________________
Like this blog? Lend your support with a purchase of The Polymer Arts magazine and visit our partners.
_________________________________________