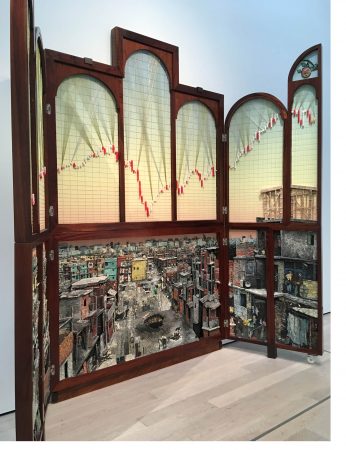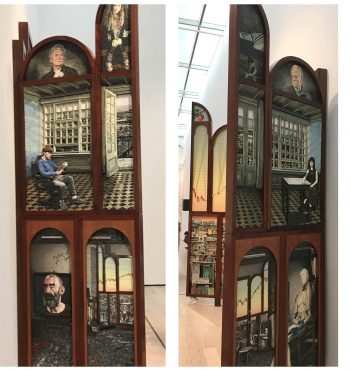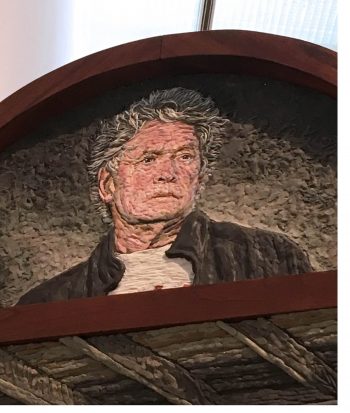 Over the last several weeks, I have been traveling and working on moving the business but I was also lucky enough to squeeze in a little museum hopping as well as catching up with a number of artistic friends so I was seeing and talking about a lot of art. I thought that this week I'd share some of what I saw during the last few crazy weeks while I finish organizing the office and warehouse here.
This first piece, Políptico de Buenos Aires by an artist collective known as Mondongo, was found in an exhibition at the Los Angeles County Museum of Art. I was accompanied by Christi Friesen and Anke Humpert and when we came to this piece we were initially just entranced by the images and the unusual layered build of the images which were a cross between bas-relief and painting. But then we all stopped at the same time to look at each other and ask, "Hey … is this polymer?"
The description on the wall just listed "clay" as the material but a quick examination showed that it was not ceramic so it was either polymer or another craft clay. It was not until I got home last week that I was able to research the artists and read that they use plasticine. I am not sure it is the same non-drying plasticine many of us grew up on but, yes, they appeared to create this elaborate, nearly 12-foot tall polyptych in modeling clay, using it like paint, with little daubs, thin snakes, and a smeared blending of colors.
The amount of work this must have taken was impressive but it had to be the various stories embedded in their depiction of a shantytown in Buenos Aires in the center sections as well as their own self-portraits and other images on the outside ends that stayed with us. The more we looked, the more we saw and maybe, the more we understood about their sense of frustration with their home country and how people live there.
I could go on and on about this piece but we don't have the time here. Let me just say this … if you have not visited a museum, gone to a gallery opening, been on an artwalk, or sought out a sculpture garden in recent months, you really should. It is such a shot in the arm for your own creativity and you just never know what you'll find!
Don't have time to get out just yet? Well, you can find additional inspiration in the pages of The Polymer Arts magazine. Through the end of the month, hard copy editions of the magazine and the Polymer Journeys book are on sale in our Etsy shop for 1/2 OFF. Help me slim down the inventory as I set up the newly moved stock and get your hands on those precious few issues you've missed or want a copy of in print, not just digital for your bookshelf.
_________________________________________
Like this blog? Lend your support with a purchase of The Polymer Arts magazine and visit our partners.
_________________________________________