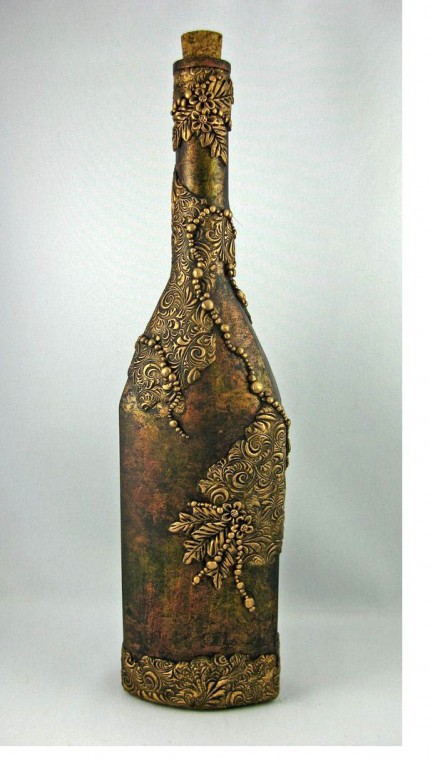 You know how you start out looking for one particular thing but end up with somewhere completely different? That's how I came upon this week's theme.
I was going to do something pre-Valentine's but something not having to do with hearts. I thought, maybe, flowers but I was overwhelmed by the many floral-ized polymer pieces out there so then I thought about vases because our valentine's flowers need to go into something special. The self-imposed problem there was that sophisticated examples were a little hard to find. This landed me on a quest for sophisticated vases, which led me to all kinds of sophisticated vessels and the one thing I noticed is that there is a penchant to make the pieces quite complex or just covered top to bottom in color and pattern. So I decided we should look at uncomplicated designs that would be easy to create with little more than a bit of planning and patience to show how accessible a lovely, polymer covered vessel project can be. So, yeah … this has nothing much to do with Valentine's Day. Oh well.
I am sure most all clayers have covered a bottle or two in their day. They are easy and inexpensive to acquire and make a great canvas to work on. This example of a tastefully ornamented bottle, subdued and yet feeling gussied up for a special occasion, was created by Jayne Ayre of Kismet Clay Designs. Jayne is an accomplished fantasy sculptor who makes regular forays into polymer covered objets d'art.
This design is actually a little unusual for her, if the Pinterest page I found this on is to be the measure, but I think it is one of her most successful covered vessels. Whereas her pieces are often adorned with medieval and steam punk style embellishments with regular and balanced placement, this piece is decorated in a free-flowing design, accented with a trail of varied polymer dots that meander casually about. The base layer brings in the color and an enticing aged look and texture so that the stamped clay laid over it doesn't need to be complicated by color or too much of anything else, really. The one gather of flowers and leaves from this view works as a nice focal point for a simple, grounded design.
This is the kind of object that won't necessarily grab your attention when you walk into a room but rather, it will make you smile when you discover it's existence among a small collection of common liquor bottles and wine. Well, that is where I would put it. A bit of decorative elegance in among the labels to surprise and delight my thirsty guests.
Jayne also covers wine and martini glasses, 'potion' bottles, and capped jars. You can find these tucked in among her fantastical creatures on her Pinterest board and her blog.
_________________________________________
Like this blog? Lend your support with a purchase of The Polymer Arts magazine and visit our partners.
_________________________________________