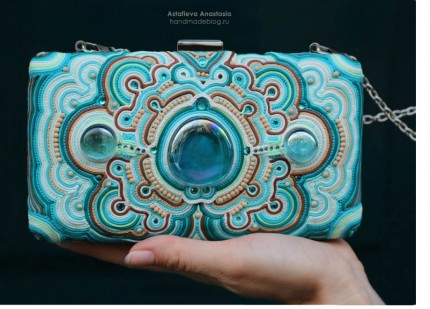 So, what else are our Russian colleagues up to besides quilting large polymer maps of their country? A lot actually. I got rather lost, pulling on the little threads I found when I went in search of more on the Russian blanket project. There is so much lovely work out there but in the end, I spent so much time on Anastasia Astafieva's blog, Handmadeblog.ru, that I just had to share some of her work.
Anastasia works polymer in a number of ways–from jewelry to decor to figurines and dolls–but I was particularly taken by her work in polymer soutache. Just look at all the detail in this soutche'd purse. The color palette has a reserved energy that keeps the whole thing from feeling like its going overboard between the intricate whorls and the large glass 'gems'. Just that touch of brown clay and the tan beads brings the lovely variations of blues and cyans a little contrast and allows us to see the soutache in defined sections.
She's made quite a few of these purses along with coordinating necklaces and even some earrings. You can see her collection which she calls "Sutazhnuyu" (Google pronounces it in Russian as "sue-tash-nah" … cool sounding word!) on this blog post.
Anastasia does more than just blog about her work. She reports on events and even did a video documentary on what she is calling the "grandmother" of polymer, Kathe Kruse (it shows up as Keti Kruze on the translation) a famous German dollmaker whose company looks to have used polymer back in the late 50s and early 60s to make dolls. She even has a photo of what is probably one of the very first polymer clay kits. You can find that post and video here. Now if Google can only figure out how to translate audio on the fly!
_________________________________________
Like this blog? Lend your support with a purchase of The Polymer Arts magazine and visit our partners.
_________________________________________