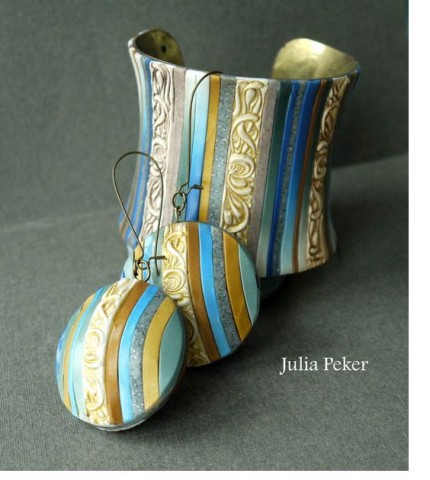 So many artists spend an inordinately large amount of time looking for the next really cool and totally different thing that will get them all kinds of attention and make their work stand out. But here is the thing … nothing is really new anymore. It's just a variation of something that was done before. Thinking and creating with this in mind can be so freeing. It allows you to just create what you love or what you want to express.
And some days you just want to be simple, clean and use some no-fuss forms and applications. Nothing wrong with that. Go for it. You can see how a basic striped composition on a bangle shape and a couple of lentil earrings did for Julia Peker's approach. Choosing an array of both visual and tactile textures gives this variation within the limitations of a palette of subdued and tinted cool colors. Nothing crazy or new design wise, but it pulls off a tasteful and understated elegance that most anyone can appreciate.
Julia takes notes from a lot of other polymer artists as can be seen in her work so I suspect she is still working on her voice but I think I see it emerging. Her postings look to be relegated to Instagram for the moment but I would be interested to see how her work develops. We'll keep an eye out!ow
_________________________________________
Like this blog? Lend your support with a purchase of The Polymer Arts magazine and visit our partners.
_________________________________________