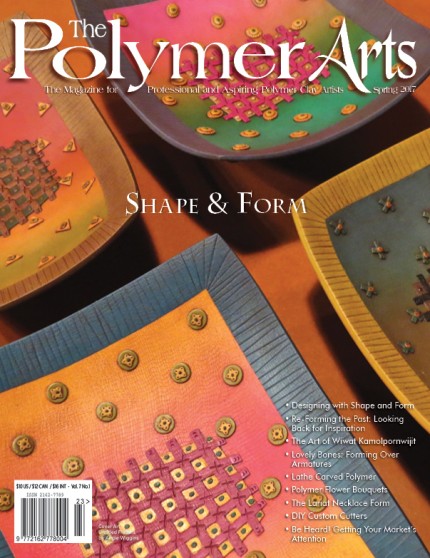 You may have seen this in the newsletter that went out a day or so ago but I didn't want anyone to miss out on the beautiful art work we were so lucky to get for the cover of the upcoming Spring issue, "Shape & Form". Due to popular demand, we decided to do a kind of "back to basics" set of themes for 2017 although I was a little worried about how that would work for people interested in contributing but as it turns out, the design categories have really got people excited and we've ended up with some really unique technique tutorials, interviews, and overview articles along with all the usual eye candy and tips and tricks articles you love to find in The Polymer Arts.
This lovely collection of platters you see here are the work of Angie Wiggins whom Lindly Haunani interviewed for our "Color Spotlight" section. Angie has a unique way of choosing and setting up her color palettes for the year, a process she shares in the article and the success of which we can see in the work.
The Spring issue and this intriguing interview will be out at the end of February. Print renewal notices were sent out by email this past Wednesday and we'll be sending out digital renewal notices this coming week but if you aren't sure about your subscription status, you can take a peek at your account here. If you don't have an account or that page can't answer your questions, you can find more information and the correct person to contact here.
_________________________________________
Like this blog? Lend your support with a purchase of The Polymer Arts magazine and visit our partners.
_________________________________________