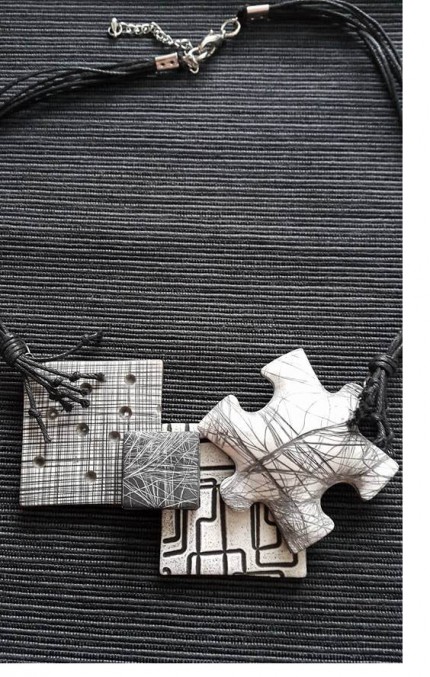 I'm not sure what the theme is going to be this week. I am just going to start here with this fairly unusual piece and see where the ideas take us. Some Mondays, you just gotta go with the flow.
Flow is part of what had me contemplating this piece by Marjana Cajhen. What caught my eye first–and was what you probably first noticed too, I'd guess–is that puzzle piece. This is looking like a progression of square shapes and then a puzzle piece shape pops up. Is this a geometric shape? It's not organic but it seems a tad too complicated to be geometric yet it's shape is balanced and measured and feels squarish in a way. However the edge of the shape keeps shifting gears. It's that constant moving edge that makes it stand out, of course, but is this a good thing?
At first I thought this pattern change from squares might be too jarring but to take it away would take away all its draw. The unexpected shape is a type of contrast not to mention adding a bit of fun in what might otherwise be a bit of a static piece, even with the energetic linear texture. The other thing I wondered about was that choice of texture. Each piece has a different textural pattern but there is consistency in that inconsistency. And since the textures also are all made up of lines, there is a relationship between them there as well as in their black and white nature.
But you know what delights me the most? That spray of cord ends splayed across the corner of that end square. Between that and the puzzle piece, it seems Marjana's choices are trying to break up an orderly gathering of stodgy squares and force them into a bit of play time.
This juxtaposition of geometric shapes and use of line , especially the scratch marks, are a regular theme in Marjana's work. You can compare her ideas on her Flickr photostream or read up on her various adventures and explorations on her blog.
Inspirational Challenge of the Day: Create a piece with a repeated form but change one along the way in some unexpected manner. Try to think of something that is both related but not commonly seen with such forms. A string of light blue round beads could be interrupted by a miniature peach. A pattern of deep red flower canes can give way to a large yellow fireworks cane. The idea is to keep the repeated element related in at least a couple of aspects and then challenge yourself to come up with something no one would expect but somehow makes sense–the blue beads relate to the peach in terms of shape and size and the orange color is a direct contrast to the blue so they can work dramatically together. Flowers and fireworks have similar centrally blooming structures and the yellow and red are both warm colors so they work together. See where this is going?
_________________________________________
Like this blog? Lend your support with a purchase of The Polymer Arts magazine and visit our partners.
_________________________________________