Here is what caught my eye today.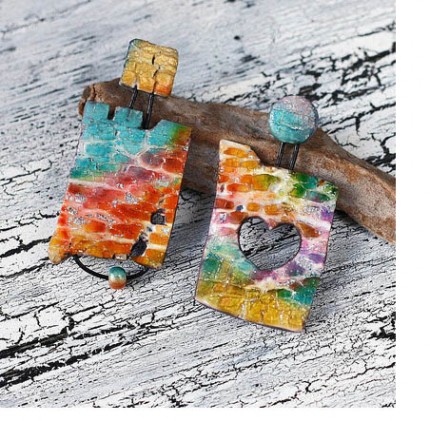 I decided to peruse Flickr this time and came upon the pages of Anna Kokareva (aka Annie Bimur) and although there were a lot of pieces to grab my attention, it was this pair of not quite matching earrings with the heart just hanging out among all the crackle that really grabbed me.
I was a little thrown by that initially since I'm not much of a heart girl but the contrast of the simple sweet heart in all that texture really spoke to me. The uncomplicated things in life, like pure love and joy, set against a back drop of chaos … this is often what life is like, isn't it? We just have to stop and appreciate the beauty within the bedlam. And in this case, we can appreciate the differences between the two earrings and probably find a smile on our faces when the little heart catches us by surprise.
The one thing I would improve is actually the background of the image. It is usually better to use a contrasting background, especially where texture (and color) is concerned or your work can blend too much with it, as it tends to here.
More little surprises as well as a riot of color and texture can be found on Anna's Flickr photostream.
_________________________________________
Like this blog? Lend your support with a purchase of The Polymer Arts magazine and visit our partners.
_________________________________________