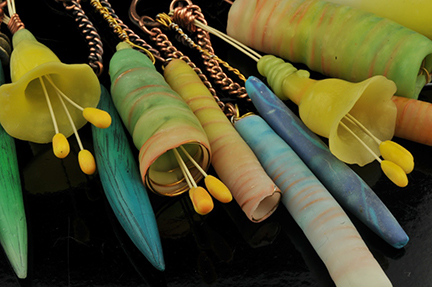 Another article in the fall issue that could have had a lot more examples in it if we had the room was about playing with faux techniques. The ideas outlined in the article are about emulating something that you find in nature, but adjusting characteristics to create something that doesn't exist. A number of fantastic artists contributed their versions of this with examples.
Page McNall contributed an example of faux wood. A small faux log to be exact, but that is hardly the end of her beyond-natural faux examples. She is definitely one of those exploratory artists I often talk about, never really settling into one form or style, but does gorgeous work in her variety of approaches. One of her newer explorations that I just love and would have liked to have included are these this faux semi-translucent organics. This is really pushing the idea of natural faux polymer. The pieces look like they could be something in nature, but I'm pretty sure there is nothing quite like the majority of these.
To get a better view of the individual pieces here, as well as her rather fascinating work, visit her Flickr page. And for more ideas on how to play with and push faux techniques, well, see the latest issue of The Polymer Arts!
If you like this blog, support The Polymer Arts projects with a subscription or issue of The Polymer Arts magazine as well as supporting our advertising partners.