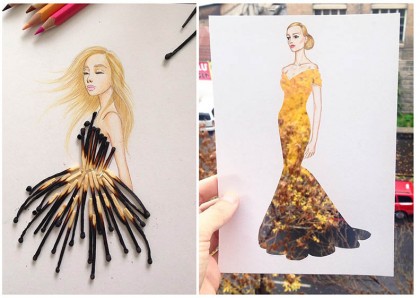 These little unexpected beauties are brought to us by Debbie Crothers who just dropped them onto my Facebook page last week. These were created by Armenian fashion illustrator Edgar Artis who uses common objects and scenes to take some basic fashion concepts beyond the ordinary. The matches dress illustration is so simple, but between the heavily directional lines and the 'hot' implication of the material, it is a rather arresting image. The cut-outs, however, are simply a fantastic way to test out color and texture. Edgar was not the first to do this, so to give credit where credit is due, you'd want to also check out Shamekh Bluwi, an architect and fashion illustrator living in Jordan, who shows off the potential for women's dresses with his very intricate cut-outs.
But besides these just being a fun bit of illustration to admire, I was thinking the cut-out-and-view-through process could be an excellent springboard or tool set to help you work out your own polymer designs. You can take sketches you have (or make copies of them) and cut out the essential mass of the design, then hold it up to various colors and textures. I just got my pack of Tracy Holmes' Colour Cards today and placing a cut-out over selected solid-colored cards would be so much more telling than just holding them up to a sketch. Don't you think?
Inspirational Challenge of the Day: Trace a favorite form or shape, cut it out so you have a stencil, then take it on a walk with a camera of some kind. Hold it up to various colors, textures, patterns, etc. as you go. Take photos of what you find. Go home and put those photos up on a bigger screen and save or print out the ones you really like. Now … can you create artwork from what you found in that empty space in the stencil?
___________________________________________
Like this blog? Lend your support with a purchase of The Polymer Arts magazine and visit our partners:
___________________________________________