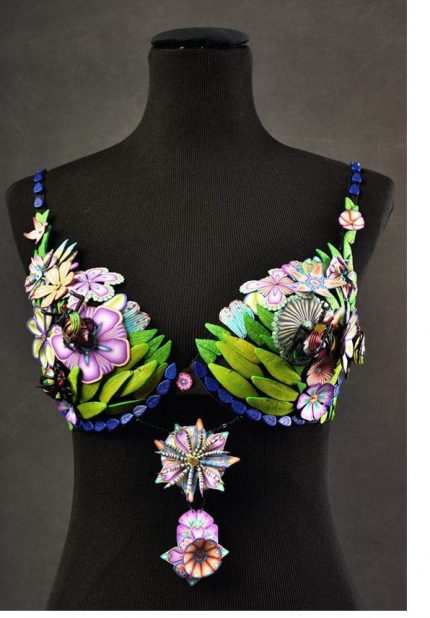 Fantastical and fun as well as fundraising, this amazing polymer bra was Randee Ketzel's entry into the annual Art Bra event in Austin, Texas. The chosen pieces are showcased during a one-night event by local models, all of whom are breast cancer survivors. The huge event raises money for the Breast Cancer Resource Center which assists Central Texans affected by breast cancer in overcoming obstacles related to accessing treatment and confronting the issues that affect quality of life, all for free. What a cool event!
And what a beautiful piece Randee created for this very noble cause. The composition, with the leaves coming up to cradle the mix of flowers as they flutter off towards the straps, is nicely balanced by the composite cane flower beads that ground the upward sweeping cups on their centered, drop placement.
For more on Randee and her other work, go to her Flickr photostream or her Etsy shop. For more on the organization and event this was made for, go to the Art Bra event site.
_________________________________________
Like this blog? Lend your support with a purchase of The Polymer Arts magazine and visit our partners.
_________________________________________