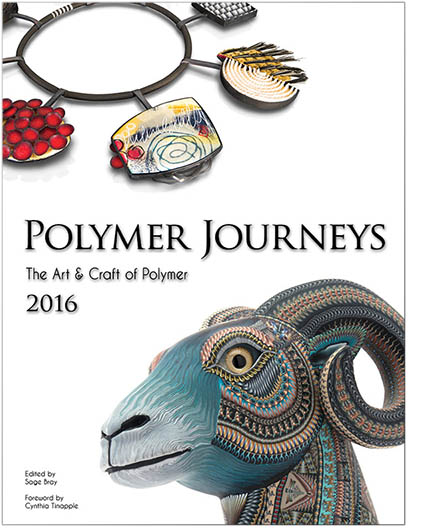 We set aside our usual art discussions today to announce the first big book project for TPA and the associated book publishing arm, Tenth Muse Publications–Polymer Journeys 2016 is just about ready for you! The release is set for April 14th.
This retrospective and peek-behind-the-scenes book is in its last phase of preparation for printing! Now that we have a publication date, we are offering you very anxious and enthusiastic folks a steep discount and a bonus to thank you for your patience and to give you the opportunity to get your copy straight off the press and into the mail!
We have an exclusive pre-sale price for just this one week. If you purchase the book on our website by March 30th, you get 30% off the cover price of $22.95! That's all of $15.95 plus shipping.
It is also available in a digital format, which will be $12.95, but this week you can reserve your copy for just $9.95.
But wait … there's more! (I've always wanted to say that!) I also worked out a way to reward our most enthusiastic supporters … be one of the first 250 people to pre-order a print copy and get a companion digital copy for FREE! Just put both a print and digital copy into your cart, then use this code to discount the digital copy: 1st250. (You'll know others beat you to it if you get a note saying the discount is no longer valid.)
Want more info on what this book is? Go to the website here. In the meantime, enjoy the gorgeous cover art by Kathleen Dustin (top) and Jon Stuart Anderson (bottom).
We'll be here if you have any questions for us. Otherwise, have a beautiful Spring and Easter weekend!
_________________________________________
Like this blog? Lend your support with a purchase of The Polymer Arts magazine and visit our partners:
___________________________________________