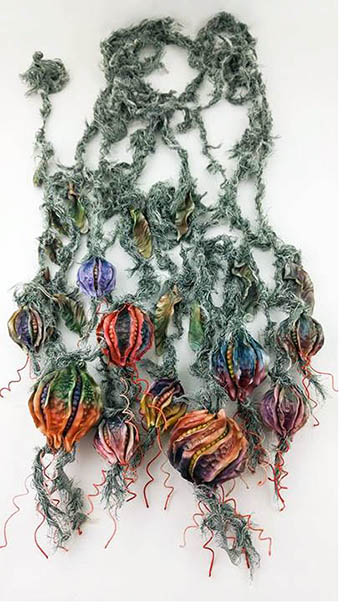 Life got a little rougher this week for the Bray clan although we are a strong and resilient bunch and just get stronger for having gone through the trials put before us. Nonetheless, we need a respite too and I have been immensely grateful that I am so lucky as to have a retreat of sorts in my own backyard. Here we are surrounded by trees beyond which is a presently green open space and hills. Below we have the soft burble of the creek as it skips along and the calming, consistent splash of three little waterfalls and the fish that play in the pond just outside my studio door. I have no idea how we managed to find, much less come to live in, such a place in this part of California but I am grateful every day. Especially lately.
I was doing a check in on the Into the Forest project page on Facebook and saw Connie Clark had posted a link to an interesting article on "forest bathing". I had never heard the term but I am very familiar with the recharging that one gets from being out among trees and in the natural world in general. That is part of the reason I thought the "Into the Forest" project would be so interesting. Have you ever noticed just how prevalent the inspiration of nature is in art, even by artists who live in densely urban settings? We have an inherent connection to nature that draws us to it. It is no less important than community and feeling that one belongs. That is what I see as the heart and purpose of a project like this–connecting to things that make us feel whole and fulfilled, including nature, community, expression and connecting with others, in this case, our fellow polymer artists and the people who will come and see this monumental project. How often do we have the opportunity to be part of something that does all that?
The image here is Ivana Brozova's contribution to the project which the organizers shared last week. Her pods are wonderful in her jewelry art but I can only imagine how magical they will look hanging in this fantastical forest of ours. You can see my post about her pod jewelry from last year here.
There is still time to participate in this project but the deadline of May 2nd is quickly approaching. Even if you just create some crazy polymer grass, you will have helped make this dream that much more wonderful. Polymer artists from all over the world are participating. The list thus far includes work from Argentina, Australia, Canada, Czech Republic, France, Germany, Greece, Israel, Ireland, Italy, New Zealand, Russia, Scotland, Sweden, Thailand, the United Kingdom, and in the USA, artists living in Alaska, Arizona, California, Colorado, Connecticut, Delaware, Florida, Illinois, Indiana, Maryland, Massachusetts, Minnesota, New Hampshire, New Jersey, New York, North Carolina, Ohio, Oregon, Pennsylvania, South Carolina, Tennessee, Texas, Utah, Vermont and Virginia have pitched in. For more information on the project, see the information listed on this FAQ page.
Weekly Inspiration Challenge: Get out into the trees! Just go out and soak it up, recharge, let inspiration just wash over you then go back to your work table and, without thinking too much about it, start creating pieces that translate how it made you feel or what you saw. Consider making 10 or more of certain items and send it off to the Into the Forest project.
_________________________________________
Like this blog? Lend your support with a purchase of The Polymer Arts magazine and visit our partners.
_________________________________________