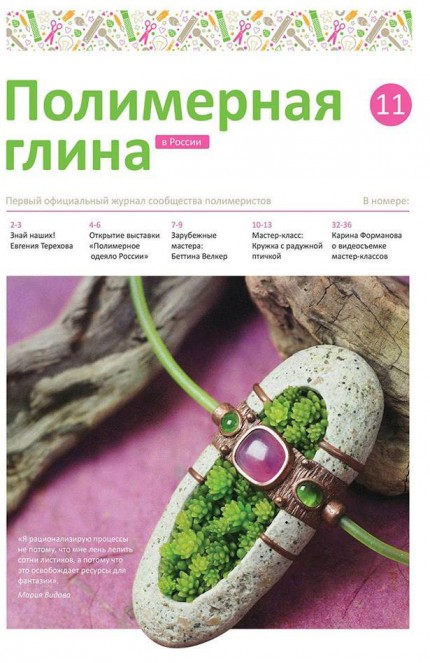 While doing my research this week on Russian polymer, I finally got to see what their polymer magazine looks like. I knew there was one out there but it's really hard to search for "Russian Polymer Clay magazine" when you don't have the corresponding keys to type Полимерная глина on your keyboard. The title you see says "Polymer Clay" and in the pink says "in Russia", at least that is what Google told me. But it took me a while to figure that out since I couldn't copy it from the image. In other words, there are barriers to us seeing the full range of what the world is doing in polymer because language can get in the way. But some of us are determined … or just plain obsessed with seeing everything people are doing with this wonderful medium!
This cover piece is by Maria Vidova. I feel pretty sure it is not 100% polymer clay but I can't read it to find out–not yet at least. It is a beautifully laid out piece with the green of the succulents being repeated in the green stones. With both plant and gems being important focal points, having the same green color presents the plants and stones as equally precious objects of beauty, which I have to agree with.
Those succulents look perfectly real, don't they? Well, their perfection comes from silicone molds and she uses liquid polymer to give it that partially translucent look. The molds look to be of her making and she sells them on her Creative Molds website. You'll need Google Translate to navigate (if you use the Chrome browser, it usually does this automatically for you) or you can write them for instructions at info@creative-molds.ru.
Now, how about getting our hands on a copy of this beautifully presented magazine? Well, I'm going to! And since they do have this available in a digital format, all of us non-Russian speaking folks should be able to copy out the text and get some kind of translation on Google. But you know you want it for the art, even if it will be a bit more challenging to read.
You can get issues of Polymer Clay in Russia in digital or print on the polymerclay-guild-ru site.
Weekly Inspiration Challenge: Find work from a region of the world you are not familiar with–and it doesn't have to be polymer, it could be any medium–and pick out the elements that you like as a source of inspiration for a new piece. Don't copy what you see; just take the time to determine what makes it work and why you like it then take that knowledge and create an inspired piece of your own.
_________________________________________
Like this blog? Lend your support with a purchase of The Polymer Arts magazine and visit our partners.
_________________________________________