You may have already seen the post on Polymer Clay Daily about this but its a wonderful project and I think as a community, this kind of thing is exactly what we have and can do that other crafts may not be able to manage because we have such an inexpensive and accessible art form. I think we should really push to grow this kind of charitable and hope-filled work.
The project being talked about is the Sammunat Nepal project. It helps the women in Nepal who are in in dangerous and traumatic situations of abuse and violence through support, both short and long term but primarily through the development of skills that allow them to reestablish themselves in a new community. The creation of handcrafted items is a huge part of this. Polymer is a huge part of this. How wonderful is that?
This project is in need of a building to work out of. They have been moving around but without the stability of a permanent location, some efforts are diluted and I'm sure there are some things that simply can't be done without it. Ron Lehocky, the maker of these wonderful hearts you see here (you may have seen his article on his Heart Project heart pins made from donated scrap clay in our Summer issue of The Polymer Arts) is really boosting the fundraising efforts for this location by offering to match donations up to $2000. Are you up for helping? It wouldn't take much. Just click here to help (scroll down; there is a donate button on the left side down a bit.)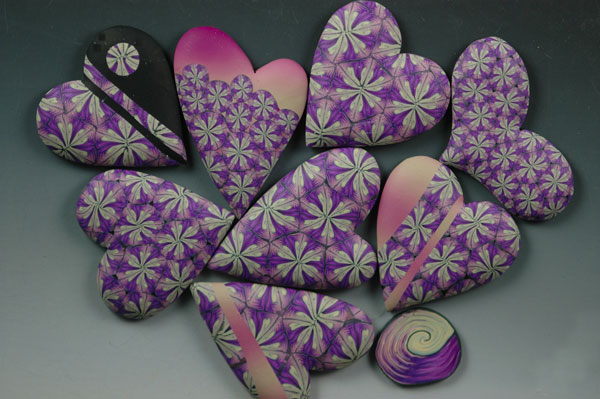 To read more about the Sammunat Nepal project, go to http://acolourfuljourney.com/blog/
And if you can't help in this fashion, do consider giving a little love to others who need it in any way you can this Valentine's Week. A gift of your artwork to a friend or even near stranger (which would make it really special!) who is having a hard time right now would be a particularly wonderful way to spread the love.