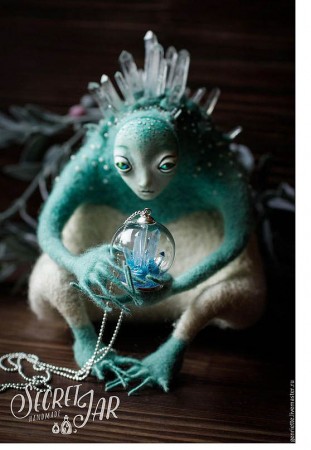 We'll wrap up the week with this curious creature that is somehow very beautiful, sympathetic, and magical all at the same time.
This is actually a felted figure with a polymer face, and real crystals embedded in its back, created by Genriette of the Secret Jar shop on LiveMaster. Ichchi, the Keeper of the Mountain Caves she calls it which really makes you stop and wonder about the story Genriette had in mind. Luckily, she gives us the story in her listing. Mind you, this is a Google translation so it's a little odd at points. You have to do a little interpreting of your own but it sparks the imagination nonetheless. :
"The spirit that dwelleth in the snowy mountains. But do not think that he was as cold as the furry giants. It's not like that at all. The spirit of quiet mountains, as if the wind whisper quiet as the evening for your window, and soft, like feathers. Ichchi afternoon sitting in his cozy cave and snowflakes cut out from the clouds, and the night creeps in the world and looking at the stars. Sometimes he is, as he himself would be a Star. I would have illuminated the way people and pointed the way to the north. Once Spirit became lonely mountains, and he came to our workshop. Looking for a friend. It promises to teach climbing to the most distant peaks."
I really like that this artist works in a myriad of craft mediums including cold porcelain, resin, wood, wire, and wax along with felt and polymer as seen here. Obviously her medium does not define her work but rather, she uses whatever is fitting for what she wants to create. This does require building a lot of different skills but an artist with many skills is far less restricted in what they want to make.
Find more of Genriette's interesting creatures and try to guess their materials before looking at the descriptions in her Livemaster shop or her vk.com pages.
Weekly Inspiration Challenge: Create a piece inspired by a creature of your choosing or create a creature from your own imagination. Even if you don't usually do this kind of thing, creating a creature will provide you with a studio mascot and more company there if you don't already have some!
_________________________________________
Like this blog? Lend your support with a purchase of The Polymer Arts magazine and visit our partners.
_________________________________________