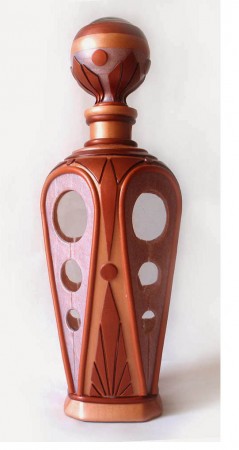 Here is another way to cover a bottle, this time with the careful layering of sheeted and extruded clay. Beth Petricoin leans on the clean planes and lines of machined clay to help create a well finished and precise design. Her choice of art deco for inspiration works well with the sheets and extruded snakes since the era is marked by crisp shapes and balanced patterns.
And lucky us … Beth documented her process, making it look so very easy, even though I know it had to take a lot of patient application, not to mention a lot of clay. This old liquor bottle is quite large–16″ (a little over 40 cm) tall–and she used 7+ blocks of clay to complete it. I think it would be hard to find someone who would not agree that it was an effort well worth the time and clay.
Take a look at the process on her blog here. Her polymer work can also be found in her Etsy shop and her Flickr photostream.
_________________________________________
Like this blog? Lend your support with a purchase of The Polymer Arts magazine and visit our partners.
_________________________________________