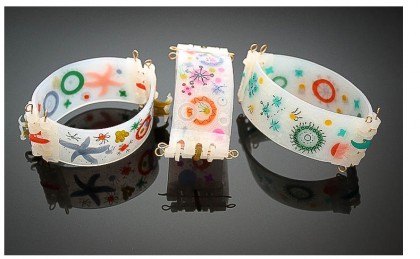 As artists, we think of our imagination as a major muscle, if not the primary one used when we're creating. But how much do you stretch that muscle?
In craft art, because we also have to create steps, a process, and consider function and durability, our minds spend a lot of time in the purely logical, problems solving sections of our brain. Not that the imagination and problem solving are not connected; they absolutely are. But pure imagination is something we don't always practice. So, here is a little something to push you to do so.
These fun bracelets are the work of the ever creative Anke Humpert. Using translucent clay in a unique design and decorating it with sea creatures she made up is just the start here.
As she explained to me, "The bracelets have a design that glows in black light! That is why they are called deep-sea creature bracelets. You would not normally notice the night side of them, only if you go to a night club or something similar. They also have a special hinge. Most of it is made with polymer only very little metal involved."
These bracelets, as it turns out, are the centerpiece for one of the three classes she will be teaching at the Cabin Fever Clay Arts Fest next month. In describing the class for prospective students, she says, "Since we do not know much about the deep seas, we will have fun and let our imagination run wild creating plants (or even animals?) as we imagine them." And that freedom and use of the imagination is what inspired me to share this today and create a bit of a different challenge for those following along.
By the way, I do have a Flickr page for sharing the results of the challenges I've been posting, only I haven't had time to snap pics of what I've done, so there's nothing on it yet really. But if any of you want to get on while I catch up over here, I would love to see what you've been up to. Go here to join in!
Does Anke's class intrigue you? She is also teaching her Big Beads and fun hand tool texturing techniques. She's joined by a slew of amazing talent including Lisa Pavelka, Maureen Carlson, Dayle Doroshow, Lindly Haunani, Doreen Kassel, Jana Lehmann, Ann and Karen Mitchell, Nan Roche, Lynne Anne Schwarzenberg, and more. There is still room in almost every class, so, if you are interested, jump in while you have your pick of classes still. You can find the classes on this PDF and registration on their webpage.
Inspirational Challenge of the Day: Let your imagination run wild and recreate an image, motif, shape, or a faux effect you might otherwise recreate as it is seen in nature or as we expect it to be, making your own version. A rose with black petals, a plaid cat, turquoise in pink, purple leather, a square pendant with a chunk missing in the corner, or a peace symbol with Mickey Mouse ears. Just change it up and make it your own.
___________________________________________
Like this blog? Lend your support with a purchase of The Polymer Arts magazine and visit our partners:
___________________________________________