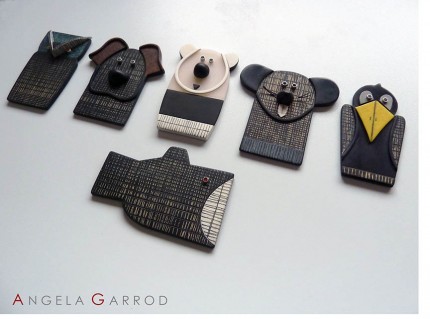 I think we'll stick with inspiring creatures this week. And what creatures are more inspiring to us than those we share our life with? Dogs, cats, birds, fish …we find something in them that we connect with so it's not surprising that they make their way into our art.
Recently Angela Garrod posted these kindred creatures of hers on Facebook. With a beautifully stylized approach, she captures the look, and even a few good expressions of some of people's favorite animals, and this while playing with geometric designs. The hand scratched texture keeps the geometric shapes from feeling too stiff and sterile and adds quite a bit to what would otherwise be just simple shapes and lines through which we, somehow, recognize the variety of animals. I don't know how our brains see that but more so, it is always a wonder how cartoonists and other artists create images with just a few simple lines and shapes and know we'll see it. The brain is just pretty darn nifty.
Angela has been up to all kinds of cool and curious geometric designs of late. You can see her explorations through her shared photos on Flickr, her Facebook page, and the gallery on her website.
_________________________________________
Like this blog? Lend your support with a purchase of The Polymer Arts magazine and visit our partners.
_________________________________________