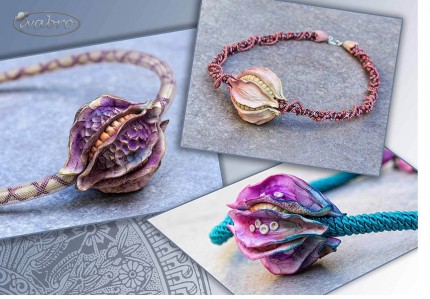 Although we regularly look at artwork once piece at a time, there is much to learn from looking over a collection of work, especially when the work has a lot of great variation.
We have not seen any work from Ivana Brozova recently as she was on a 10 month hiatus, traveling all over southeast Asia. I was curious to see what inspiration would come from that and although I don't know how directly these pieces were influenced by her travels, these forms and colors certainly feel like they could come from the lush forests of Asia. They are also obviously based on things she's done before but there is maturity in the details, especially looking at them as a group. Her material for hanging these necklaces is vastly different from one piece to the next. The treatment of the walls of the focal pod also varies as does the coloring and application of the color. The result is a series with each piece feeling quite different from the next although they are so much the same in form and construction. It gives you a good idea of some of the areas you can play with as you explore variation in your own work.
You can see how Ivana has developed variation in her past work as well as bookmark her pages to check in for future pretties on her Flickr photostream.
Inspirational Challenge of the Day: Play with the functional aspects of your work. If you do jewelry, try out vastly different types of findings, chains, and cords. If you do decor, try a different type of material to apply the polymer too or a completely different kind of vessel or form. If you do wall art, research unique ways to hang it that can be incorporated into it's composition and design.
_________________________________________
Like this blog? Lend your support with a purchase of The Polymer Arts magazine and visit our partners.
_________________________________________