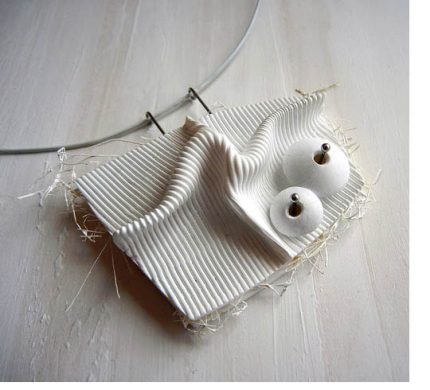 Sonya Girodan has been consistently posting intriguing and quite exploratory pieces, this past year or so and I don't think there has been one that I thought was just "meh". They have all felt intense, with a sincere and thorough plunge into attempts to rip her voice and creativity out of herself and into the open. Maybe this sounds a tad dramatic but it's rare to see work like this, playing around on the edge of the comfortable aesthetic range within polymer art.
That is not to say that every piece is unquestioningly successful but it is unquestionably brave to put such a range of work out there, to say, here is what I am as an artist right now and yes, it is a kind of all over the place. Sometimes an artist just need room to dance as softly or as wildly as they are inclined, to dance like no one is watching. .
This kind of gutsy approach has led Sonya through a lot of experimentation but to me, none has had quite the draw that these mixed fiber works have had. My prior craft work was in fiber, mostly natural materials in a raw state, so I will admit to a preference for the kind of thing you see here, mixing textures as well as materials. I know many people who work with polymer have such an awe or love of the material that they don't want to work with anything else and may even feel like a bit of a traitor if they start to have an affinity for another material. But art should not have limitations, especially self-imposed ones. I think any creator should just reach out for whatever is needed to create the vision in their head or heart. The material is secondary to the vision.
Let me do some of that questioning of you, dear reader, that I was doing last month. I know this piece will not be everyone's cup of tea but how do you feel about it? Bereft of color but rich in form and texture, does it feel like anything is missing? Does it feel whole and thought out or does it feel like an experiment that went as far as it could, a prelude to future work? You don't need to post your answers (although I love to hear what you all think!) but if you take a moment to ask yourself these questions, maybe even write them down, you might find it interesting to see what you think put into words. There is a certain bravery to critiquing other people's work and there is certainly a learning experience possible in it.
Sorry for the rambling. I have not had much sleep, battling some crazy neck pain this past week. But hopefully my meandering mind is entertaining! What you might find more entertaining is Sonya's work. Take a stroll through her Flickr photostream for a better overview of what I have been babbling about here and enjoy peeking in on her artistic journey.
_________________________________________
Like this blog? Lend your support with a purchase of The Polymer Arts magazine and visit our partners.
_________________________________________