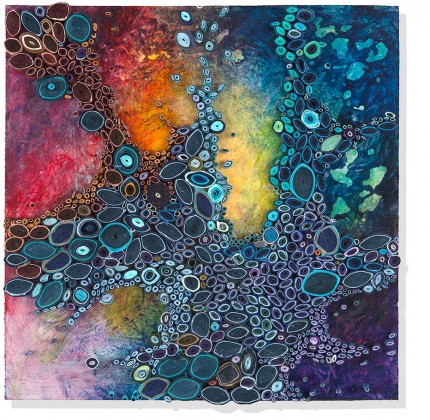 I am going to leave you with this colorful piece today. It is a type of mosaic, one could say so it fits the theme but I chose it primarily because the colors felt right, matching the riot of emotion that this day holds for my family and I as we lay my father to rest. We celebrate life today though, rather than mourn it. That's just how we roll.
Amy Eisenfeld Genser, on the other hand rolls paper. That is what you see here–the cross sections of many rolled piece of colored paper. It could easily be a polymer cane application though, don't you think? Well, here are some questions to ponder over. Leave your thoughts in the comment section if you have a moment.
What emotions or reactions do you have to this piece? Are you drawn to the texture and composition as much or even more than to the color, which likely grabs you first? What design element or design related terms comes to mind first when you ask yourself why this works so well or why it doesn't if you don't think much of it?
If you enjoy this piece, you will probably enjoy getting lost in Amy's website where she has work in her gallery from the last dozen or so years.
Weekly Inspiration Challenge: This week, take a critical but very forgiving eye into your studio or to the photos of your work and look at some older pieces of yours. Find the ones you think were really good and ask yourself why the pieces work so well? Just focus on the good stuff today, your successes and the work that makes you happy. Then create or enjoy your weekend as you need to.
_________________________________________
Like this blog? Lend your support with a purchase of The Polymer Arts magazine and visit our partners.
_________________________________________