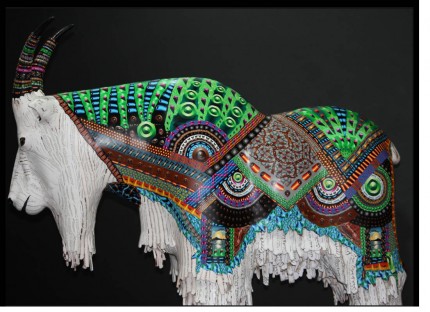 The Spring issue is out and as usual, there is a bit of chatter on it out there in the social network world but there is an unusually high level of enthusiasm out there this issue. Is it that fabulously colorful cover? The wide variety of articles by or about amazing artists like Donna Greenberg, Christi Friesen, Wiwat Kalmpornjiwit, and Sylvie Peraud? So far the most talked about articles are the Lariat making, Donna's inspiration from the past and Christi's treatise on armatures which was pretty eye-opening since she picked the brains of some of the most amazing artists for which armatures are essential, namely Ellen Jewett (with that incredible opening piece!) and Adam Thomas Rees who I knew built his own animal shapes but had no idea how he did these huge things. But Christi revealed that for us.
The one thing we couldn't do in Christi's article was blow up some of the images so you could really see the detail of the work these artist's do. Adam layers canes onto animal shapes in a manner reminiscent of Jon Anderson though they were developing their work around the same time so I don't think Adam came to this idea from seeing Jon's work although either of them may have influenced the other since. But other than canes on animal shapes, they have different approaches. Adam's pieces are huge and his canes are large, broad patterns and often very bright. He sometimes mixes up other sculptural textures and additions to his creatures that create a feast of interesting details for the eye to roam over. The hanging matted hair like texture built up on this one creates a swath of white to give the eye a resting place below all that intense color and pattern above.
Just open Adam's website and try not to be startled by the creature staring out at you. It's beautiful but intense! Take some time out today and enjoy Adams colorful patterns in his galleries. And grab your copy of the Spring issue of The Polymer Arts on our website here.
_________________________________________
Like this blog? Lend your support with a purchase of The Polymer Arts magazine and visit our partners.
_________________________________________