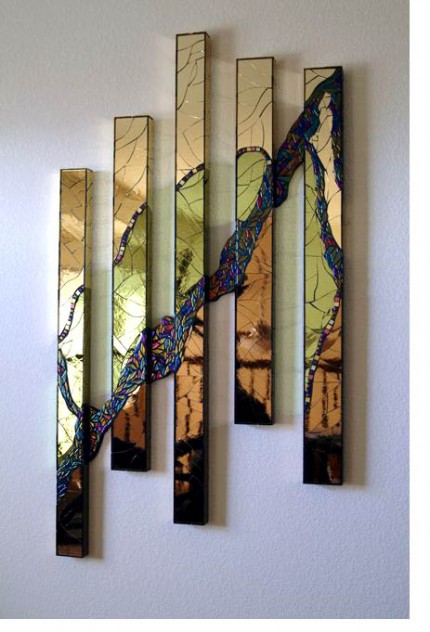 The art form with the ultimate bits-and-pieces approach has to be mosaics. With mosaics you can take any material that can be collected in chunks that are small enough to puzzle together among themselves or with other smallish chunks. That makes for a lot of possibilities. The possible forms for the application of mosaics is pretty wide open. Even opening the form is possible and breaking the frame is a possibility with mosaics.
Robin Evans' choice of material is primarily glass from which she creates jewelry and, apparently, some pretty amazing wall art in a mosaic style. I hesitate to call it a full mosaic as it looks like the swaths of gold, copper, and green are cracked glass or mirrors which gives the impression of a mosaic even though it's not although it is a pretty cool look.
Then there are the actual mosaic parts which not only flow through from one panel design to the next but also move right off it and onto the wall to make their ways across. This not only connects the vertical panels but brings the piece alive with movement that breaks the frame of each one. And it's shiny!
I couldn't find a gallery of much of Robin's wall art or at least not a gathering of it but you can find pieces scattered among her jewelry on her Facebook page, in her Etsy shop and on Instagram.
Weekly Inspirational Challenge: Create something beautiful from unassuming elements. This could be a great way to use old canes, extra beads, scrap clay and even cured and deserted elements. See what you have in your spare bins and boxes in your studio space and see what can be resurrected from the stuff you set aside.
_________________________________________
Like this blog? Lend your support with a purchase of The Polymer Arts magazine and visit our partners.
_________________________________________