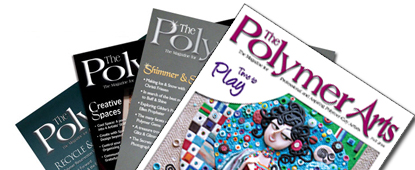 Where do you reside?
To comply with tax, delivery, and government regulations on digital goods, we need to know where your purchase will be delivered so we can direct you to the correct items.




Support our Advertisers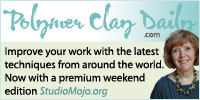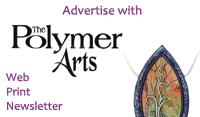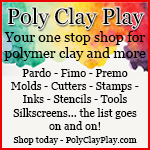 Join us on the

Daily Polymer Arts Blog
Doses of artistic inspiration, tutorials, and news 3 times a week.
All About DIGITAL Editions of the Magazine
•
FAQs (including requirements and compatible devices)
Using the Digital Version of the Magazine:

You could jump right in and rummage around in the Flipbook (you can't break anything!), but if you want more direction we have that for you here and on the Flipbook screen. (Below is a screen shot of the flipbook. See ... instructions on the left for you!)

What do you want to know?
To Download Your PDF:
1. Click the "download" icon in the toolbar of the flipbook screen.
2. This will bring up another browser window from which you can Download the PDF to a computer folder of your choice by clicking the download icon or text near the top.
3. Once the download is complete, locate the file in the folder you saved it to.
4. The file is a zipped folder. Unzip it (right click and look for an 'Unzip' or 'Extract' option or open a Zip utility app) and save it to a folder of your choice.
5. To read it, you should be able to click on the PDF file and your computer will open it in your default PDF reader. If you don't have a PDF reader, go to https://get.adobe.com/reader/ to get a free Adobe Reader.


Alternate PDF Download
**If you run into any problems downloading as above or have a browser or mobile device that is not showing the toolbar, use the "Alternative Download" option on the cover of the flipbook issue.
1. Note the instructions and write down the password code under the "No Toolbar?" instructions on the left of your issue's cover.
2. Click on Alternate PDF download. This will take you to a page that you will type the password into.
3. On the page that opens, click on the "Download PDF ..." button. This will automatically load your PDF into a new browser window. Give it some time. These are large, high quality PDFs.
4. Once that happens, use steps 2-5 above.
FAQs About Digital Versions:
What is needed to access the Digital Flipbook?
Our service requires you to have Windows XP (or higher) or MAC OS, a major and updated web browser (e.g. Internet Explorer, Chrome, Firefox, or Safari), Flash plugin installed (*to view Flash enabled flipping), and computer hardware requirements standard for most modern-day applications. No additional 3rd party website or downloads are required.

Is there a mobile solution?
Yes. If you log in from an iPad or other mobile device, the flipbook reader software detects that and automatically sends the HTML version for you to view.

Is the mobile flipbook version available on all mobile devices?
There are over 5,000 mobile device and operating system combinations out there so although this should really work on any recent device, updates or apps may be needed for your specific device. You will need to consult your device's support for help with updates.

What if I don't have Adobe Flash Player on my computer or device?
Most popular devices support flash, except iPads and iPhones. You can download the Adobe Flash Player software for your system for free at http://get.adobe.com/flashplayer/.
iPads and iPhones will load the HTML version, which just won't have the fancy flipping movement, and you will need to click on the "Alternative download" link on the cover of the flipbook to grab your PDF.

What do I need to view the PDF version?
All you need is Adobe Reader, a PDF reader, or a PDF conversion service (sometimes used on mobile devices), but most likely your device already has this. If your computer doesn't have Adobe Reader, you can download a version at http://get.adobe.com/reader/. For mobile devices, check your manufacturer's website, app store, or contact their support center.